Ada Chukwudozie
Master's in Development Practice (MDP) in Indigenous Development
---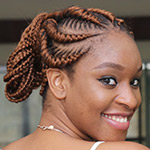 I was born and raised in raised in Lagos, Nigeria. I got called to the Nigerian Bar in November 2018, and in addition to my BL and LLB, I also have an MA in Human Rights. With regards to work experiences, I have had a variety of legal experiences from working with the legal department of a real estate firm in Colombia, to working with a free legal advice clinic for victims of domestic violence in Newbury. I have also worked as a consultant for the Campbell collaboration, an organization focused on research and evidence synthesis, particularly on development.
I am studying the MDP because I am interested in understanding more about how social development can be used to advance the protection of human rights. I intend to use whatever skills I gain to contribute to the development of my country, other developing countries and ultimately, to the betterment of human rights across the board.
In my down time, I write poems and I also enjoy listening to and performing spoken word poetry. I enjoy outdoor activities such as long lazy walks, camping, horseback riding and zip lining, and I love meeting and interacting with people from different cultures and backgrounds.