Nontokozo Ndlovu
Master's in Development Practice (MDP) in Indigenous Development
---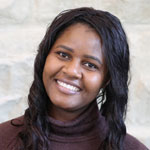 Growing up, I have had the experience of travelling and experiencing different cultures and lifestyles. I developed a lot of passion in culture and community engagement. This influenced my studies and after high school, I pursued BA in African Languages and Culture at Midlands State University. I did my practicum with the Ministry of Women Affairs, Gender and Community Development in 2013- 2014 where I worked as the Community Development Officer in Bulawayo. My position allowed me to monitor and evaluate ministry projects, engage in empowerment and community conversations and programming ways of making a difference in the communities. The Ministry focused more on women's affairs but after partnering with other NGOs like World Vision, Men's Forums were created, and this was to empower and offer opportunities to them as well. After finishing my Bachelors, I was and still involved with a charity group, Girls r us, in 2016 which distributes sanitary to less privileged girls and young women in primary and secondary school. Our mission is to educate the girl child about menstrual health and offering them sanitary wear.
I then joined the DREAMS club as a member before I was trained to be a facilitator. I worked with Bekezela Home Based Care and SAFAIDS the DREAMS Project in 2017 which is USAID funded targeting Adolescent Girls and young Women on HIV and AIDS issues. Realizing that a lot of incidents rates are recorded amongst the 15-24 years girls, DREAMS offers a lot of intervention to help them get on their feet and being resilient. DREAMS offer young girls and women with HIV prevention knowledge, accessible HIV and STI treatment, education opportunities and work experience amongst many offers.
In August 2017 I had the opportunity to volunteer with Mennonite Central Committee and worked at Indigenous Family Center in Winnipeg as the Children Program Coordinator. I wasn't limited to that as I worked a lot with adults too. Realizing how colonisation has affected a lot of Indigenous Peoples, not only in Canada, influenced my interests of furthering my studies in Masters in Development Practice. I hope to become a development practitioner understanding that culture is essential in every decision made in the name of development.