Henok Alemneh
Master's in Development Practice (MDP) in Indigenous Development
---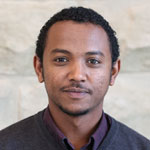 Henok has a MA in Tourism and Development, BA in Tourism Management and a Diploma in Travel Counsellor Program. He has gained customer service and management experiences working at different levels in the hospitality industry and he has also served as a University Instructor and had the opportunity to engage in various academic, research and community service activities. 
Currently, Henok is studying MDP in order to build on his skills to be a successful practitioner of sustainable development. The growth and development of tourism is one of the most significant cultural, social and economic phenomena impacting indigenous communities and developments around the globe and visitors are nowadays looking for authentic indigenous tourism experiences. Therefore, Henok believes, the linkage between various aspects of tourism and other indigenous development components need to be well studied so as to ensure a sustainable development practice is followed.
He certainly has an immense potential to achieve great results in the MDP program and following that, he would like to engage in problem solving research activities, community support and development projects and also pursue his PhD study.