Gloria Makafui Dovoh
Master's in Development Practice (MDP) in Indigenous Development
---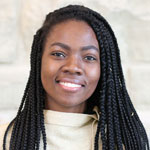 Gloria Makafui Dovoh is a graduate of the University of Ghana, West Africa. She graduated in November 2017 with a degree in Geography and Resource Development as her major and a minor in Sociology. For her thesis she focused on the livelihood conditions of female head porters (known as "kayayei") who mostly migrate from the Northern parts of Ghana seeking a better life in the city of Accra. She explored how they managed issues concerning literacy, nutrition, safety among others to get a sense of their daily lives. The research, now published, gave her a broader perspective on how young women adapt to and explore different strategies in the face of hardship.
Since 2013, she has worked on many community development projects in the education and health care sectors. She has worked as part of a team to raise funds and donations to support less fortunate school children in Ghana. In 2016, Gloria worked as a volunteer school teacher and advocated female education in Kua, a deprived rural community in the outskirts of the Volta Region of Ghana. She provided educational talks on social issues such as literacy, hygiene and birth control among young school girls. This experience aided in her work as a Teaching and Research Assistant at the Department of Geography and Resource Development and the Centre for Migration Studies respectively both at the University of Ghana. 
Gloria is very passionate about championing the course of the UNDP Sustainable Development Goal 4 on Quality Education. It is her hope that the Master's in Development Practice program will equip her with a broader world view on social and economic challenges facing marginalized populations. She hopes that the field placements the program offers will give her more hands experiences in advocacy for marginalized groups.