Tikaram Adhikari
Master's in Development Practice (MDP) in Indigenous Development
---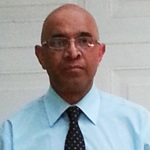 Tikaram Adhikari is working as a Program and Policy Officer with the Manitoba Government (worked as Policy Analyst before) and as part-time instructor at the University of Winnipeg and International College of Manitoba with a diverse set of multi-disciplinary knowledge base: program planning, economics, natural resource management, international development, adult education, career counselling and indigenous knowledge. He had been teaching economics and international development studies for over 20 years including over 12 years in Manitoba and worked as Career Counsellor and Qualification Recognition Specialist for newcomers to Canada working for Manitoba Start. He holds two Master degrees: Master of Natural Resource Management (University of Manitoba) and Marts of Arts in Economics (Panjab University); Post-Graduate Certificate in Education (University of London); Certificate in Adult Education (University of Manitoba) and Certificate in Career Planning and Counselling (University of Winnipeg).
Mr. Adhikari started his career as Economics and Education Lecturer in Bhutan teaching undergraduate and graduate economics and education courses and training teachers. He co-authored two high school economics curriculum in Bhutan used in the Bhutanese schools for several years (1998 – 2011). He has a passion for post-secondary teaching and working with students, especially international students. He believes in the value of post-secondary education and its power to change people and as a vehicle for human resource and capacity building critical in development.
Mr. Adhikari's worked for two international development organizations. He worked for Save the Children/USA as a Program Officer for over three years focusing mainly in the participation and capacity building of rural communities in development planning based on their indigenous/ local knowledge and grounding the development planning in the realities of the remote, rural villages with increasing their capacity to voice their contextual requirement. His work for Aga Khan Foundation in India as Monitoring and Evaluation Consultant further enhanced his knowledge of rural communities' participation in development planning, monitoring and evaluation based on their indigenous and local knowledge.
In the development field, he brings solid knowledge of practical issues and understanding of communities' contextual realities and helps to analyze theoretical underpinnings with intents to equip development practitioners. He was actively involved in the Equator Initiative project and was instrumental in synthesizing the case studies in natural resource management imbedded in this project that resulted in his thesis and a co-authored paper entitle: Development and conservation: indigenous businesses and the UNDP Equator Initiative. He uses this knowledge base in teaching Program Planning as part of Masters in Development Practice at the University of Winnipeg.
Mr. Adhikari's other passion lies in facilitating settlement of newcomers to Canada, helping their integration through employment in the Canadian work places and promoting diversity and intercultural awareness. He had been an active member of the community serving as the past President of the Nepali Cultural Society of Manitoba, past secretary (2007 – 2010) of the Hindu Society of Manitoba and now the current Chairman of Punya Foundation, an international NGO that promotes and supports education of poor and vulnerable children from Bhutanese Refugee camps in Nepal and orphan children of Earthquake victims from 2015 Nepal Earthquake. In 2015 he received top 25 Canadian Immigrant Award and in 2012 was honoured with the Queen Elizabeth II Diamond Jubilee Medal in recognition of some of these works.