Shailesh Shukla
Indigenous Studies
---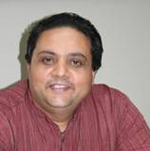 Title: Associate Professor and Graduate Program Chair
Office: 3RC091
Building: Richardson College
Email: s.shukla@uwinnipeg.ca

Biography:
Dr. Shailesh Shukla's teaching and research interests range widely from indigenous knowledge systems, indigenous and traditional foods, food sovereignty, ethnoecology, participatory governance, community-based conservation, intergenerational transmission and learning within indigenous knowledge systems, critical social science and mixed research methods including indigenous worldviews, indigenous development and community-based development and resources management.  He has collaborated with academic and research partners from Canada and South Asia on research projects on indigenous knowledge systems and community-based resources management funded by SSHRC, Shastri Indo-Canadian Institute, and IDRC Canada.  He is now serving as co-Principal Investigator (2011-2014) and thematic leader for the Indigenous Knowledge component of an international interdisciplinary research project that involves three Canadian universities (MSC CMU, UM, Guelph) and multiple partners in South Asia (India, Nepal and Sri Lanka).  The project is funded by the IDRC, Canada through its newly established funds on global food security. He also served as a consultant for International Fund for Agriculture Development (IFAD), FAO (Food and Agriculture Organizations) and European Commission. He has recently completed Shastri-Institute funded international action-research project on exploring the value of traditional foods and wild crops in enhancing community food security in two indigenous communities – Juang from Odisha, India and Fisher River Cree Nations, Manitoba. His key geographic interest and experience is South Asia (India, Nepal and Sri Lanka) and Manitoba, Canada. His scholarly works appeared as Edited Book chapters and in journals such as Human Ecology, Journal of Ethnobiology and Ethnomedicine and Ethnobotany research and Application. He is also an International advisory committee member for the Biodiversity Watch Journal and peer reviewer for Human Ecology, Journal of Ethnobiology and Ethnomedicine and Environment Management. He is co-editor (with Drs. R. N. Pati and Laurence Chanza) of Indigenous knowledge and Biodiversity (Sarup Book Publishers, 2014). He has presented and published research papers on indigenous knowledge systems, particularly traditional medicinal plant knowledge, food security in indigenous contexts, participatory research methods, community-based conservation, environmental education, sustainable agriculture and educational innovations. In an effort to strengthen Indigenous Science stream, Dr. Shukla has developed and taught new courses at University of Winnipeg including Ethnoecology, Indigenous Food Security, and Field course on Ethnobotany.
Research Interests:
Indigenous knowledge systems, indigenous and traditional foods, food sovereignty, ethnoecology, traditional medicine, participatory governance and resources management, community-based conservation and development, intergenerational transmission and learning within indigenous knowledge systems, social learning for sustainability, critical social science and mixed research methods including indigenous worldviews, indigenous development