Gabriel Ricardo Nemogá Soto
Indigenous Studies
---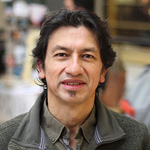 Title: Associate Professor
Email: g.nemoga@uwinnipeg.ca

Biography:
Gabriel Ricardo Nemogá Soto is a descendent of the Muisca Indigenous People of Colombia, South America.He has a PhD in Human Ecology (University of California-Davis), a MA in Socio-Legal Studies (Brunel, UK), a BA in Sociology (National University of Colombia), and a BA in Law (Free University of Colombia). Dr. Nemogá has conducted field and community participatory work with Indigenous peoples and organizations in Colombia, the Andean and the Amazon region and Mexico. The focus of his research has been on Biodiversity Law, Access Regimes to Genetic Resources, and Traditional Knowledge Systems.
Since joining the University of Winnipeg, Dr. Nemogá's work emphasizes the interface between cultural and biological diversity providing a new approach to understand biodiversity and traditional knowledge law and policies. His work strives for the incorporation of indigenous worldviews and ways of life, normally ignored in decision making processes, in the development mechanisms for the protection of traditional knowledge and biodiversity. He also sees Indigenous education as a critical step to exercise indigenous self-determination and to ensure the respect towards a culturally distinct ways of life.
Dr. Nemogá previously was an associate professor at the National University of Colombia where he founded the Institute of Socio-Legal Research (UNIJUS), the research group on Policy and Legislation on Biodiversity, Genetic Resources and Traditional Knowledge (PLEBIO), and the Master Program in Bioscience and Law, among other initiatives. His published works in articles, chapter books, and public presentations encompass ethical and legal issues on human genetic research, environmental issues, bioprospecting, property rights and biodiversity, protection of traditional knowledge, access to genetic resources systems and relationships between modern states and Indigenous nations.
He is currently involved in research initiatives undertaken with the research group PLEBIO, the International Union for the Conservation of Nature, South (IUCN-South) and research partners from Central and South America. He is a Senior Researcher of the Centre for International Sustainable Development Law (CISDL). He has been involved in leading research initiatives on bioprospecting, bioethics, and traditional knowledge systems in the Andean Community region. Dr. Nemogá enjoys working with students committed to pursue their own intellectual curiosity, to explore new ways of understanding and to achieve their academic and professional goals with high academic and ethical standards.
Research Interests:
Biodiversity Law, Access Regimes to Genetic Resources, and Traditional Knowledge Systems