Jeff Martin
Professor and CRC Tier 1
---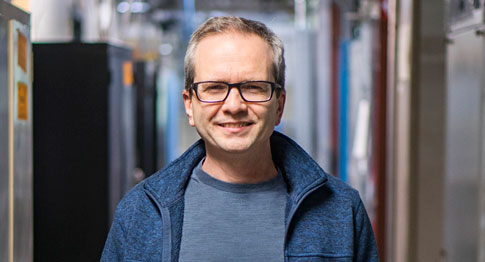 Contact Information
Fields:
Areas of Expertise:
Atomic Physics
Isotope Production
Lasers
Magnetic Fields
Magnetic Sensors
Nuclear Medicine
Nuclear Physics
Particle Physics
Physics
Subatomic Physics
Languages Spoken:
Available To:
Appear on radio or TV
Appear as a public speaker
Provide comment to media
Write articles
Discuss research with industry, government, and others
About:
Dr. Jeff Martin is The University of Winnipeg's Canada Research Chair (Tier 1) in Fundamental Symmetries in Subatomic Physics. He is the Canadian leader of an international collaboration of physicists aiming to make the world's best measurement of the neutron electric dipole moment. This particle physics experiment will be conducted at TRIUMF (Canada's National Laboratory for Particle and Nuclear Physics) in Vancouver.
Recently, Martin co-authored the Canadian Subatomic Physics Long Range Plan 2017-2021, commissioned by the Natural Sciences and Engineering Research Council Canada. He is a Member of the Board of Directors of the Canadian Institute of Nuclear Physics.
He was raised on a farm near Crystal City, MB, where he attended primary and secondary school. After his BSc (Hons.) in Physics at the University of Manitoba (1995), he went on to complete a PhD in Physics at the Massachusetts Institute of Technology (2000) and postdoctoral work at the California Institute of Technology (2000-2004). In 2004, he returned to Winnipeg to take up a faculty position at UWinnipeg.
Media and Research Expert