Chris Wiebe
Professor and Canada Research Chair
---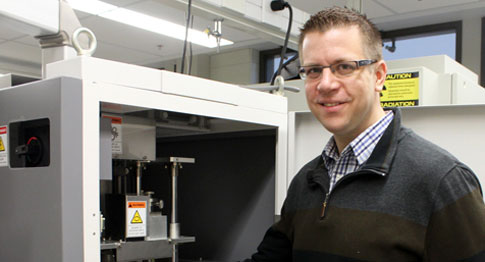 Contact Information
Fields:
Energy / Fuel Sources
Materials Chemistry
Areas of Expertise:
High Temperature Superconductivity
Magnetism
Neutron Scattering
Single Crystal Growth
Quantum Materials
Languages Spoken:
Available To:
Dr. Chris Wiebe completed his B.Sc. at The University of Winnipeg, and his MSc and PhD at McMaster University. He was the recipient of an NSERC Postdoctoral Fellowship at Columbia University before returning Canada briefly to teach at Brock University.
His first tenure track position was at the Florida State University in 2005, with a joint appointment at the National High Magnetic Field Laboratory. He returned to Canada in 2009 to become the Canada Research Chair in Quantum Materials Discovery at UWinnipeg and an adjunct professor at The University of Manitoba.
Wiebe is also a Fellow of the Canadian Institute for Advanced Research – Quantum Materials Division.
His research focus is the synthesis and characterization of new highly correlated electron systems, with neutron scattering being one of his primary probes of condensed matter.
Wiebe has served in the past as President of the Canadian Institute for Neutron Scattering, Chair of the National Magnetic Field Library User Committee, and a member-at-large of the Neutron Scattering Society of America board.
He has over 110 research publications, serves on the editorial board of the Journal of Physics Condensed Matter, and has won accolades such as the PAI Award for Excellence in Teaching and Research.
Media and Research Expert