Education

---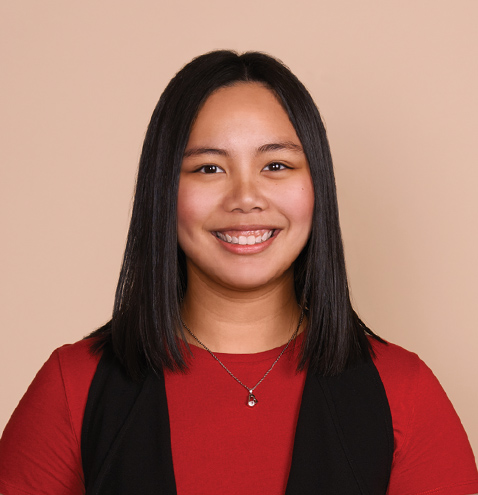 "I'll inspire students inside and outside the classroom." – Kimmey Panaligan
If you ask Kimmey Panaligan what impact teachers can have on their students, it's one that extends far outside the classroom.
"I'm really big on creating connections and building relationships with students," she said. "You're another adult in their lives, and sometimes school is their safe place rather than being at home. For them to have another adult to go to makes a big difference."
Panaligan's love of education has been lifelong, but her passion for mathematics really drew her into pursuing Education at The University of Winnipeg.
And that passion started growing thanks to her two high school math teachers.
"The way they taught the content was really clear and they were willing to answer all the questions we needed to gain clarity on the subject," she explained. "But more than that, they built a relationship with me, which made it easier for me to be open with them with any concerns I had with the class."
Now, as Panaligan finishes her last term before graduation, she's ready to start making an impact as a full-time teacher. Thanks to UWinnipeg's program, which combines classroom learning with actual teaching experience, she has a better appreciation for the craft, because it's "actually not as easy as I thought."
Looking into the future, Panaligan hopes to one day be that influential teacher who inspires students to follow their dreams.
"I desire to be a teacher that challenges students to go beyond the limits they have created for themselves."
---
What is Education?
By blending theoretical knowledge with classroom practice, you'll be ready to shape young minds and mentor a generation of leaders. In addition to preparing students for provincial certification, UWinnipeg's unique program also focuses on urban and inner-city education, helping students make the transition to professional educators by providing the opportunity to work with teachers and children in real classrooms.
Make an impact
Do you remember your favourite teacher growing up? As an educator, you'll have the unique ability to make an impact on students' lives that can last a lifetime. Whether you're inspiring the next generation of scientists, sharing your love of sports as a physical education teacher, or teaching English overseas, there's no limit to what you can do as an educator.
Career opportunities
School Teacher
Librarian
Guidance Counsellor

Private Tutor
Education Consultant
Family Support Worker

UWinnipeg faculty, students, and alumni are leaving their mark in the field of Education. Read their stories:
ACCESS Awards evening honours five graduates
UWinnipeg Education students teach in Germany
High schoolers design accessible products through empathic engineering
---
View Education Factsheet [PDF]  |  See Academic Calendar Information [PDF] | Visit Department Website
Looking for more information? Please fill out the form below.