Diversity and Inclusion
Pride at UWinnipeg
Pride is held annually to recognize and amplify 2SLGBTQ+ people and their voices; to commemorate successes and achievements, while remembering historic and current struggles and discrimination faced by individuals in these communities.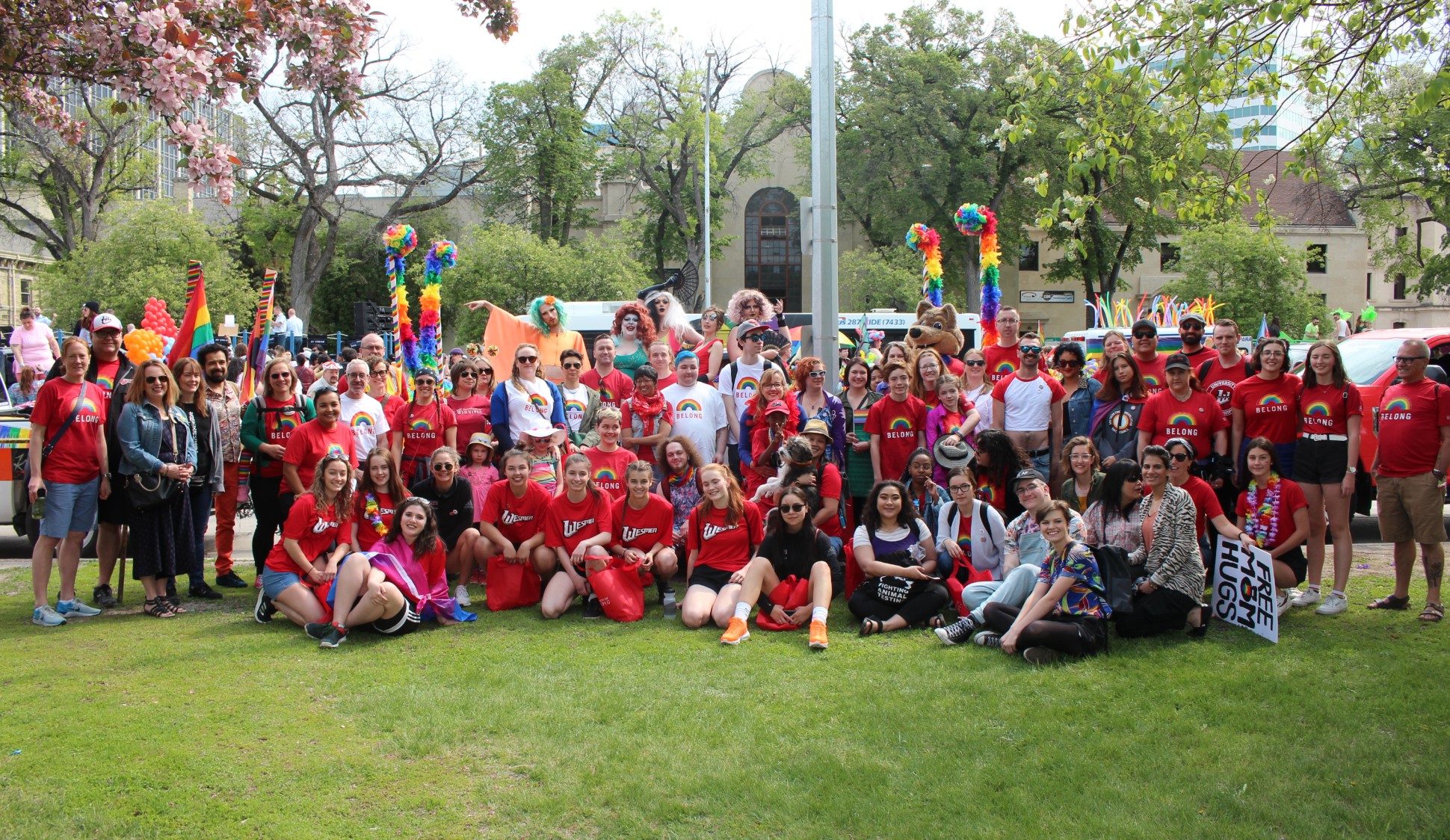 At The University of Winnipeg, we're dedicated to recognizing and amplifying 2SLGBTQ+ people and their voices.
Pride is an annual event at The University of Winnipeg. In conjunction with Pride Winnipeg's celebrations, we raise the Pride and Two-Spirit flags on campus, have a float in the Winnipeg Pride Parade, and host events such as panel discussions and Queer Cocktail Parties.
In 2019, UWinnipeg Archives, in collaboration with the Two-Spirited People of Manitoba, launched the Two-Spirit Archives at UWinnipeg as part of our Pride celebrations. The collection is believed to be the most comprehensive archival collection of Two-Spirit material in Canada.
With assistance from the Two-Spirit Archives Advisory Council, we plan to develop the collection into an internationally-renowned research collection. The collection will support scholarship and research while preserving the history and the contributions of Two-Spirit Peoples.
To support students who identify as members of the 2SLGBTQ* community, the UWinnipeg Alumni Association created the 2SLGBTQ* Student Award.
Each year, $500 is awarded to a second-, third-, or fourth-year undergraduate student who is active in community service or demonstrates academic promise in research on topics with particular relevance to the 2SLGBTQ* community.
Ongoing support for the award includes the proceeds from sales of the UWinnipeg Pride t-shirt, which is sold at the Campus Bookstore.
UWinnipeg also hosted the groundbreaking Call to Conversation (C2C) Conference in 2017, which brought together the voices of Two-Spirit and Queer People of Colour (QPOC) communities to the forefront.
Over the course of three days, 140 community members, scholars, activists, artists, students, youth, and traditional knowledge holders gathered to share dialogue on the work that needs to be done to have a more inclusive society.
The C2C Conference was the first of its kind in Canada to focus on the experiences of Two-Spirited and QPOC.