Resources for Students
Call for Proposals, Papers, and Applications
Job/Volunteer Postings and Calls for Donations
---
Call for Proposals, Papers, and Applications
IUS Call for Student Papers 
The Institute of Urban Studies invites submissions for papers from University of Winnipeg undergrad honours and graduate students on any topic related to urban studies. The IUS will award the best paper, judged by qualified referees, with a $500 prize and online publication in the IUS Student Paper Series. 
All entrants must be a University of Winnipeg student in a graduate or undergraduate honours program, and only one submission is permitted per entrant. Students are encouraged to enter a paper written for coursework. Past winners can be viewed on the IUS website. 
The deadline for submission is April 29, 2022. 
For submissions and all writing queries, contact Jillian Golby-Borsa at j.golby@uwinnipeg.ca. 
Call for Chapter Proposals
Editors are seeking chapter proposals for a forthcoming edited collection/anthology, tentatively titled, We Were Never Meant to Be Here: Student Voices, Activism, and Canadian Universities. The anthology aims to center the voices and experiences of marginalized students in Canadian universities by bringing forward the discontinuities, struggles, and desires of marginalized students.
Contributors to this anthology will explicate how areas such as diversity work, citational practices, student activism, ethical review and administrative policies are performed and/or stifled in university settings. The anthology operates as an intervention to boom-and-bust cycles of overwork, exhaustion, and collapse that govern so many academic spaces, and asks, "what would academia look like if our energies were directed toward leaving no one behind?" In combining personal narrative, artistic interpretation, and research, the collection will unearth the uneasy terrain of Canadian academic institutions and work towards emphasizing the tools and survival strategies used by students to navigate such terrain.
Editors are searching for contributors from across a variety of disciplines who are at or have recently graduated from a Canadian university. They welcome proposals from individuals at all levels of their education (i.e., Undergraduate, Master's, Doctoral, Postdoc, etc.), including those who have graduated from a Canadian university in the past 5 years. They welcome a variety of written and visual materials, including, but not limited to, personal narrative, commentary, scholarly pieces, poetry, photography, and digital media. Due to the nature of the anthology priority will be given to folks who identify as 2SLGBTQIAA+, disabled, neurodivergent, mad/mentally ill and/or as BIPOC (Black, Indigenous, Person of Colour).
Proposals should be 300-500 words in length. Collaborative/multi-authored proposals are welcomed. Depending on the type of written piece the final completed piece will be roughly 500-8000 words. Poetry and visual/art submissions can vary greatly depending on the project or piece. Please submit proposals at the following https://bit.ly/31yFEHB by April 22nd, 2022.
Disclaimer – Should you wish to contribute to the anthology but wish to remain anonymous the editors will work with you to protect your anonymity.
Although this is not an exhaustive list, topics might include:
Institutional life; institutional culture; Canadian university culture
Sexual violence; sexual harassment; rape culture
Human rights and equity
Imposter syndrome and belonging
Cissexism; misogyny; transphobia
Classism; first generation academics; funding
Mental health and academia; madness and academia
Ableism; disability justice; access to knowledge
Decolonizing the academy; Indigeneity and Canadian universities
Anti-Black racism; racism in academia
COVID-19 impacts; online learning
University polices, governing structures, and regulations
Teaching assistant labour; research assistant labour
The neoliberal university; merit culture; corporatization of the university
Research methodologies; citational politics; ethics review
General education curriculum; pedagogy; clinical practicum
Diversity work; EDI (Equity, Diversity, Inclusion); committee work
Educator training and graduate student programs
The book is set to be published with Canadian Scholars/Women's Press upon submission of a full proposal.
Download the call for chapters poster [PDF]
KNOTS: Undergraduate Journal of Disability Studies
Call for Papers
KNOTS is a peer reviewed undergraduate journal of disabilities studies, housed out of the University of Toronto. They are currently seeking submissions for their 7th issue entitled '(Inter)dependence, Collective Care, and Access'.
This issue of KNOTS seeks to reflect on how understandings and practices of interdependence, care and access shape our social, material, and political lives. Consideration of this theme comes from reflections upon present shifts in mainstream discourse surrounding dependence, collective access, care, health, wellness, labour, and consequently, disability and critical disability justice. Thinking beyond our ever-shifting societies that have been strained by the ongoing COVID-19 pandemic/endemic, the editors invite readers and contributors to consider narratives of solidarity, futurity, potentiality and possibility.
They are calling for:
Written manuscripts of up to 4500 words (including citations).
Artistic submissions with an artist's statement of up to 350 words.
Film and book reviews of up to 1500 words.
The deadline for submissions is May 2nd, 2022
Submissions must be word documents and emailed to knots.contact@gmail.comFor more information please visit: https://knotsjournal.carrd.co/
Download the CFP [PDF]
---
Job/Volunteer Postings
WGS-2264/DIS-2200-780: Disabilities, Sexualities, and Rights
Instructor/Supervisor: Kristen Hardy
June 16-August 16, 2022 (20 hours)
View details or apply online
Eviance:
Senior Research Officer - Apply here
Stakeholder Engagement Officer - Apply here 
---

Conferences and Events

Neuro-hilarity
Live @ the Handsome Daughter on April 29
2 shows: 7:00pm and 9:15pm
Tickets: $10
Join host Adam Schwartz for a stand up comedy show showcasing neurodiverse comics talking about their lives on stage!
Featuring Meghan Riley, Scott Koropas, Stéphanie Morin-Robert, Jo Dworschak, Going Greene, and Danielle Kayahara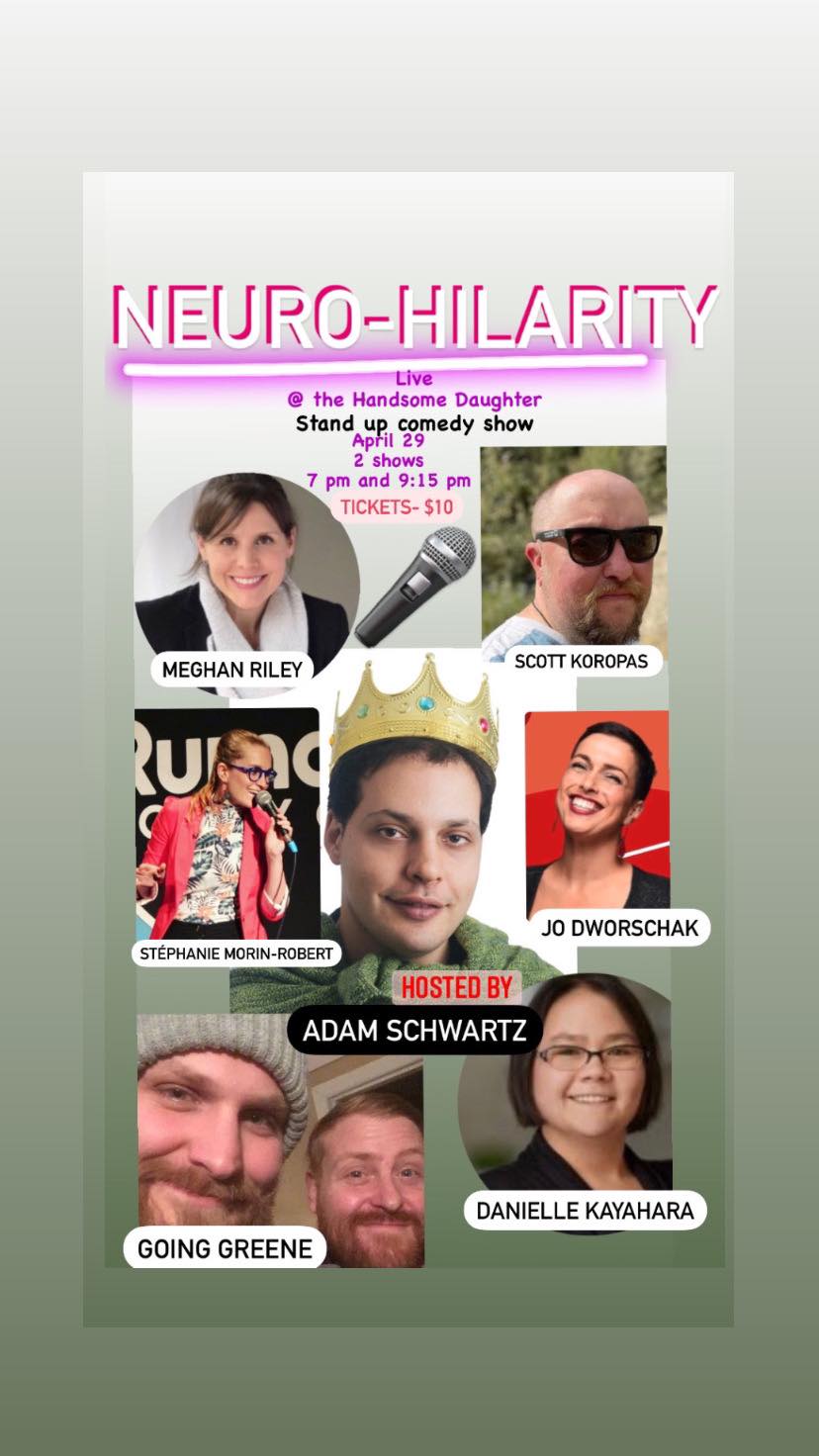 Statistics Canada: Eh Sayers Podcast
Episode 1 - Talk about the barriers, not the disability: Activity limitations and COVID-19
Statistics Canada has published a podcast episode that is "a heartfelt discussion on disability in the context of the COVID-19 pandemic. We discuss the realities of people living with disabilities, their challenges and all the changes that the pandemic has brought in their daily lives."