Indigenous and Proud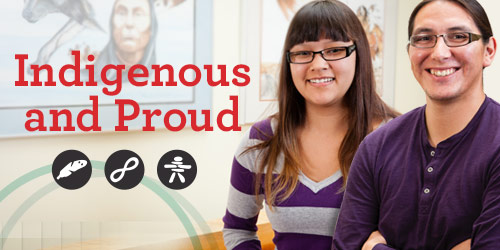 Help to enhance service, supports, and programming for Indigenous students at UWinnipeg!
Did you know that approximately 12% of UWinnipeg's current student body is comprised of First Nations, Métis, and Inuit students? By voluntarily self-identifying as an Indigenous student, you enable a more accurate statistical reflection of our student population. Your data is kept completely confidential and helps the University better meet the needs of Indigenous students in the UWinnipeg community.
Declare Yourself!
It's easy to stand up and be counted! If you haven't already declared yourself on registering as a UWinnipeg student, just download and complete this Personal Update form and submit it in one of the following ways:
• scan and email as an attachment to studentrecords@uwinnipeg.ca 
• visit Student Central in person (1st floor, Centennial Hall)  
• fax to 204.783.4996
• mail to 515 Portage Avenue, Winnipeg MB R3B 2E9
Indigenous at UWinnipeg
Visit Indigenous.uwinnipeg.ca as well as the pages listed on the menu above to learn more about the numerous supports and services that help to ensure The University of Winnipeg is supporting Indigenous students and community, and leading the way for Indigenous inclusion.