Robyn Maynard and Leanna Betasamosake Simpson Axworthy Lecture
The University of Winnipeg welcomed Leanne Betasamosake Simpson, Michi Saagiig Nishnaabeg scholar, writer, and artist, and Robyn Maynard, artist and scholar, as Axworthy Distinguished Lecture Series speakers in November 2022.
Simpson and Maynard co-authored the recent national bestseller Rehearsals for Living, a captivating and visionary work — part debate, part dialogue, part lively and detailed familial correspondence between two razor-sharp writers. It's a finalist for the 2022 Governor General's Award for Nonfiction.
"Robyn Maynard and Leanne Simpson's epistolary exchange in Rehearsals for Living shines a light on urgent crises of the present moment — among them the ecological crisis, COVID, anti-Black and Indigenous racism, and the expendability of some lives over others," according to Dr. Tracy Whalen, Chair of the Axworthy Distinguished Lecture Series and Associate Dean of the Faculty of Arts.
"But it also carefully and caringly explores how we might build new worlds while dismantling structures of oppression. Their commitment to living 'in relation,' one demonstrated in the book's letter-writing, will make for a powerful conversation in the upcoming Axworthy lecture."
---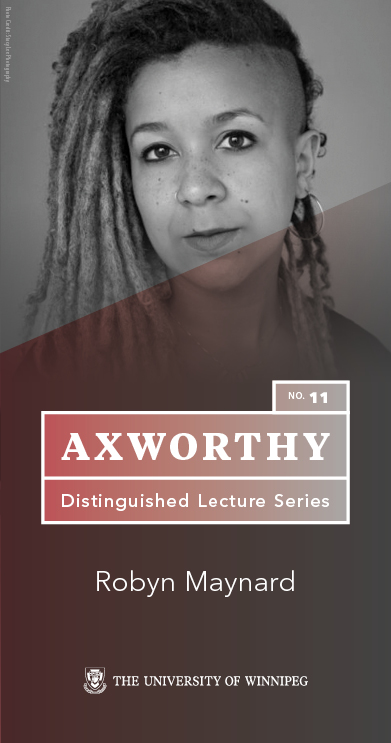 About Robyn Maynard
Robyn Maynard is an author and scholar based in Toronto, where she holds the position of Assistant Professor of Black Feminisms in Canada at the University of Toronto-Scarborough in the Department of Historical and Cultural Studies. 
She is the author of Policing Black Lives: State violence in Canada from slavery to the present (Fernwood 2017). The book is a national bestseller, designated as one of the "best 100 books of 2017" by The Hill Times, listed in The Walrus's "best books of 2018," shortlisted for an Atlantic Book Award, the Concordia University First Book Prize and the Mavis Gallant Prize for Non-fiction, and the winner of the 2017 Errol Sharpe Book Prize. In 2018, the book was published in French with Mémoire d'encrier, titled NoirEs sous surveillance. Esclavage, répression et violence d'État au Canada. Translated by Catherine Ego, it won the 2019 Prix de libraires in the category of "essais."
Maynard's most recent published work, co-authored with Leanne Betasamosake Simpson, is titled Rehearsals for Living, and was recently published with Knopf (Canada), Haymarket: Abolitionist Paper Series (US/UK), and is forthcoming with Memoire D'encrier (French translation). The book is a Toronto Star, Globe and Mail, and CBC National Bestseller. An author interview on the book, "Every day we must get up and relearn the world," was recently published in Interfere journal, and Simpson and Maynard shared excerpts from the text at Simon Fraser University Library Dean's Lecture on Information + Society, which can be viewed on YouTube.
Maynard is the winner of the "2018 author of the year" award by Montreal's Black History Month and was nominated for Writer's Trust Dayne Ogilvie Prize for LGBTQ Emerging Writers. She has published writing in the Washington Post, World Policy Journal, the Toronto Star, TOPIA: Canadian Journal of Cultural Studies, Canadian Woman Studies, Critical Ethnic Studies Journal, Scholar & Feminist Journal, as well as an essay for Maisonneuve Magazine which was the "most-read essay of 2017". Her writing on borders, policing, abolition, and Black feminism is taught widely in universities across Canada and the United States, including her most recent peer-reviewed publication "Police Abolition/Black Revolt," published in TOPIA.
Maynard contributed to the research and writing for the Defund the Police website and recently authored two toolkits: "Building the World We Want: A Roadmap to police-free futures in Canada" and "What is Prison Abolition in Canada?" With Pascale Diverlus, she co-hosted the Building the World We Want abolitionist learning lab and a monthly public education learning series.
Find out more about Robyn Maynard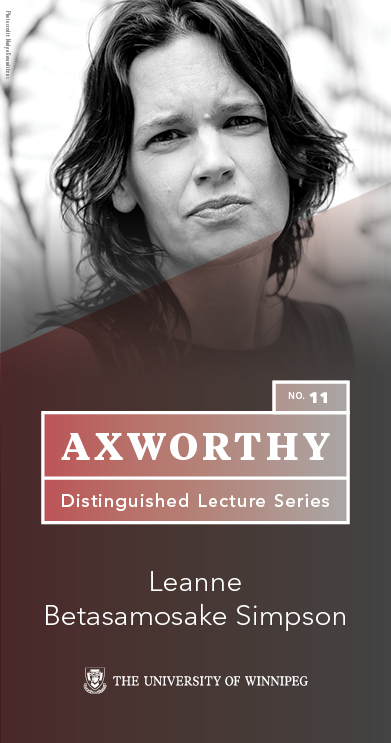 About Leanne Betasamosake Simpson
Leanne Betasamosake Simpson is a renowned Michi Saagiig Nishnaabeg scholar, writer, and artist, who has been widely recognized as one of the most compelling Indigenous voices of her generation. Her work breaks open the intersections between politics, story, and song — bringing audiences into a rich and layered world of sound, light, and sovereign creativity.
Working for two decades as an independent scholar using Nishnaabeg intellectual practices, Simpson has lectured and taught extensively at universities across Canada and the United States, and has 20 years of experience with Indigenous land-based education. She holds a PhD from the University of Manitoba, and teaches at the Dechinta Centre for Research and Learning in Denendeh. 
Simpson is the author of eight books, including A Short History of the Blockade and the novel Noopiming: The Cure for White Ladies, which was short listed for the Governor General's Literary Award for fiction and the Dublin Literary Prize. This Accident of Being Lost was a finalist for the Rogers Writers' Trust Fiction Prize and the Trillium Book Award. Her new project, a collaboration with Robyn Maynard, Rehearsals for Living, is a national bestseller. Leanne is also a musician. Her latest release Theory of Ice was named to the Polaris Prize short list, and she is the 2021 winner of the Prism Prize's Willie Dunn Award.
Find out more about Leanne Betasamosake Simpson
---
Reserve your free seat or purchase a Meet and Greet Pass today!
Reserve Free Seat & Meet and Greet Pass
Unable to attend, but want to support the lecture?
Donations and proceeds from all Meet and Greet purchases are directed to future lectures and will go a long way in ensuring this series remains accessible to our community.
---
About the Axworthy Lecture Series
The Axworthy Lectures aim at accessibility and are open to the public. In order to make the Axworthy Lectures as accessible as possible with free admission, the series relies on donations from the community. To keep the lecture series ongoing in this accessible format, please consider donating to the Axworthy Lectureship. 

The Axworthy Lecture Series was established to honour Dr. Lloyd Axworthy, President of the University of Winnipeg from 2004-14.