UW Student Enrolment
CLASS
---
Who can register?
University of Winnipeg students, undergraduate and graduate.
How to register?
Students must register in REL-3940/4940 The University and the Public Good thorugh Webadvisor. UW Graduate students may register in GDP-7791 The University and the Public Good. Registration includes access to all Institute lectures.
When to register?
The Spring 2017 registration period is currently open!

Who is the instructor?
Dr. W. Rory Dickson, an Assistant Professor in the Department of Religion and Culture, is the main instructor of the course. Find out more about him below.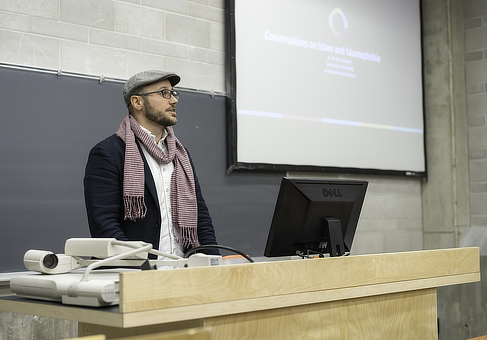 Dr. Dickson completed a Joint-PhD in Religious Studies (2012) at Wilfrid Laurier University and the University of Waterloo, with a specialization in Islamic Studies. As a SSHRC Doctoral Fellow (2010-2011) Dickson attended the University of Toronto and the University of Copenhagen's Graduate Research School in Damascus, Syria. His research focuses on contemporary Islam in general, and on Islamic mysticism (Sufism) in particular. His forthcoming book Living Sufism in North America: Between Tradition and Transformation (State University of New York Press, 2015) explores the ways in which Sufi leaders in North America negotiate Sufism's changing relation to Islamic orthodoxy, authority, and gender. He is currently preparing a manuscript with Meena Sharify-Funk (under contract with Equinox) for an innovative introductory text on Sufism, while continuing a number of research projects on Sufism.