Alana Lajoie-O'Malley, BA, BSc, MPhil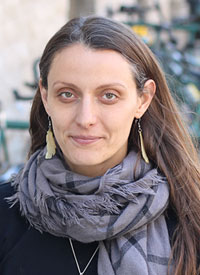 In honour of our golden anniversary, The University of Winnipeg is proud to present a dedicated member of our staff with the 50th Anniversary Sustainability Recognition Award. Alana Lajoie-O'Malley is our Senior Advisor for Research and Sustainability and the key champion of UWinnipeg's sustainability vision.
Her tireless efforts to minimize our campus's overall environmental impact have seen the University cut greenhouse gas (GHG) emissions by 32 per cent below 1990 levels— even with the addition of five new buildings.
Between 2003 and 2006, Lajoie-O'Malley was a founding member of the student group that lobbied UWinnipeg to establish a sustainability initiative and set clear GHG emission reduction targets. She played a key role in developing the concept paper that framed much of the University's approach to sustainability and community engagement in the decade that followed.
In September, UWinnipeg unveiled its second five-year institutional Sustainability Strategy. Both collaborative efforts were spearheaded by Lajoie-O'Malley and provided concrete, measurable targets for improving environmental, social, and economic sustainability on campus.
Lajoie-O'Malley is a frequent guest speaker on climate action, sustainability planning, and environmental advocacy in classrooms and conferences. She advocates for the value of education in advancing social change.
When public speaking or participating in dialogues and consultations, Lajoie-O'Malley never shies away from pushing the envelope and challenging groups to reconsider what is possible. She is firmly committed to clearing the path for young people to speak louder, clearer, and more intelligently about issues that matter to them.
Lajoie-O'Malley has served on the Board of the Manitoba Eco-Network twice and has supported or co-founded other grassroots organizations working on climate issues in Manitoba. 
She holds a Bachelor of Science in Physics and a Bachelor of Arts (Hons). She also holds a Master in Philosophy in Modern South Asian Studies from The University of Oxford.