Jeremy Leathers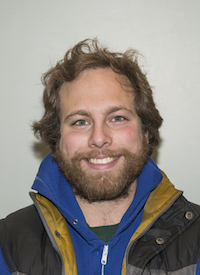 Jeremy Leathers is an engaged student leader who has helped many of his peers turn their good ideas into concrete sustainability projects at The University of Winnipeg.
During his three-year term as president of the Geography and Environmental Students Association (GESA), Leathers was integral to expanding the group's Eco-Grant program — an annual award aimed at supporting environmental stewardship on campus. 
Through his creative thinking and fundraising efforts, the grant now offers support for students travelling to conferences or professional development events that enhance their knowledge about environmental sustainability.
Leathers was also involved in the decisions to provide Eco-Grant funding for student-led projects to build rooftop produce gardens, develop a seed library, and establish a plastic bag recycling program on campus.
Beyond his work as GESA president, Leathers has been a strong proponent for student engagement in and public awareness of sustainability issues. Recently, he was a panellist at the University's 2018 Grass Routes sustainability festival and last summer, he helped communicate UWinnipeg field research to members of the public at FortWhyte Alive.
As a student, his research has focused on issues of nutrient pollution in Winnipeg and across North America. His honours thesis looked at the impact of freeze-thaw cycles on phosphorous release from cattails in Manitoba; and he is co-author of a report to the Department of Fisheries and Oceans on water flow and zebra mussles in Western Canada.
He graduates from UWinnipeg this spring with a double BSc (Honours) in biology and geography and is set to begin a master's program at Wilfrid Laurier University this fall. 
The University of Winnipeg is proud to present Jeremy Leathers with the 2018 Campus Sustainability Recognition Award.