The Geography and Environmental Students Association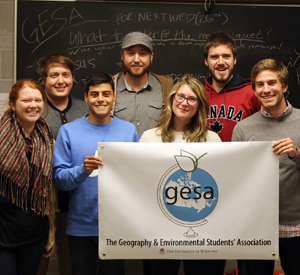 The University of Winnipeg is pleased to present the Campus Sustainability Recognition Award to the Geography and Environmental Students Association.
The Geography and Environmental Students Association (GESA) created a vision for an Eco Grant to support campus-based projects that have a focus on sustainability and are spearheaded by students, faculty members, staff, or community members who have direct affiliation with the University. GESA members conduct fundraising campaigns to support this innovative idea. People apply for the Eco Grant to fund a project that will impact the University campus sustainability and environmental efforts, empower people to engage in sustainable initiatives on campus and in their personal lives, and allow people to execute their ideas by providing them with funding. This year, the Eco Grant was awarded to establish two beehives on campus in an effort to help declining honeybee populations in North America. The sustainability issues around honey bees are complex, because we rely on them so heavily as valuable pollinators in our industrial food system. The hives will be visibly located and signage will educate students and other passers-by about the project. A small student group will assist with the beekeeping. Creation of the Eco-Grant and all the associated fundraising work represents a true investment in the sustainability potential of students, faculty and staff.