Dave Dorning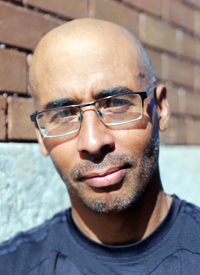 An elite athlete, skilled bicycle mechanic and mature student in the Department of Kinesiology, Dave Dorning has consistently gone above and beyond the expectations of his part-time position as the general coordinator of the UWSA Bike Lab, making a significant contribution to UWinnipeg's culture of campus sustainability. In his position Dorning has served as an invaluable mentor, safety educator and advocate for environmentally sustainable transportation.
Dorning began working at the UWSA Bike Lab in 2012, bringing his wealth of knowledge about cycling and repair and his connections within Manitoba's cycling and sports communities, immediately contributing to the success of the newly established active transportation hub. An invaluable mentor, in 2013 Dorning worked extensively to develop a comprehensive bicycle mechanic training program for Bike Lab volunteers.  By building the capacity of students to act as lead mechanics in the Lab, Dorning's program was instrumental in ensuring the Bike Lab could better meet its goals of staying open longer hours to provide support to students, faculty, staff, and community members interested in adopting cycling as a commuting option.
An exceptional community ambassador for the Bike Lab and The University's commitment to environmental sustainability, Dorning is noted for his efforts to design and deliver programming to school-age children so they can better understand the links between environmental sustainability, active transportation, and health. He has provided this community education formally through involvement with initiatives such as Lets Speak Ojibwe to our Kids, the EcoKids on Campus, the Model School, and a BMX Bike Build program for local youth. Informally, in the summer months Dorning can often be seen in the lot next to the Bike Lab, working with low-income community members to ensure cycling is safe and accessible to all.
For actively advancing UWinnipeg's role as a leader in social and environmental sustainability, on campus and throughout the wider community,  The University of Winnipeg is proud to honour Dave Dorning with the Campus Sustainability Recognition Award.