Danielle Nowosad, BSc (Hons)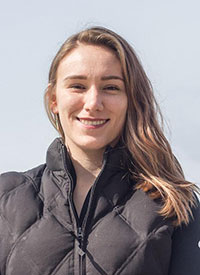 Danielle Nowosad is described as a natural leader who actively encourages her peers to engage with environmental and sustainability issues. She is known for her dedication and passion as a researcher at the Churchill Northern Studies Centre (CNSC) in Manitoba, and among her colleagues and professors at The University of Winnipeg.
Inspired by the students and researchers she met at CNSC, Nowosad enthusiastically took on an independent research project investigating nutrient uptake in subarctic pond sediments. This project resulted in several poster and conference presentations across the country and in Norway, which is an impressive feat for someone so early in their career.
Her time at CNSC solidified her research experience and transformed her into an ambassador for the protection of northern ecosystems threatened by human activities. As an environmental ambassador, Nowosad engages the public in regards to her research and issues that affect the environment. She is a dedicated community organizer, volunteering at Oak Hammock Marsh, the 2018 Manitoba Envirothon Provincial High School Competition, and various other regional Envirothon competitions and training events.
She has received numerous awards, including the prestigious Natural Sciences and Engineering Research Council of Canada (NSERC) Undergraduate Student Research Award, which allowed her to continue her research at the CNSC.
Nowosad's interests include volunteering and fundraising for a women's shelter and guest-judging the Frontiers North School Division and St James School Division science fairs.
Nowosad completed a Bachelor of Science (Honours) in geography earlier this year and is currently working towards a Master of Science degree in integrative biology at the University of Guelph. 
The University of Winnipeg is proud to present Danielle Nowosad with the 2019 Student Sustainability Recognition Award.