Caleigh Christie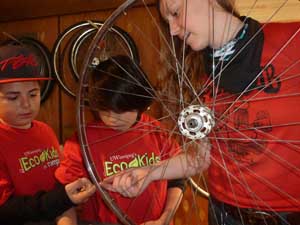 During her time at UWinnipeg, Caleigh Christie has acted as the Co-President of the Geography and Environmental Studies Students' Association, the UWSA Bike Lab Coordinator, and as a member of the Environmental Studies Department Advisory Committee. Known for her humour, warmth, and intelligence, Christie continues to set the bar in student leadership, vision and advocacy.
Since 2010, Caleigh played a key role in the envisioning, fundraising and administering the EcoPIA/GESA EcoGrant. This is the first time the grant was awarded to support the development of a sustainability-focused student submission to the University's Strategic Review process that brought a strong student voice to the University's Strategic Review process.
Christie is a core member of the UWSA Ice Riders Bike Gang, the winter cycling team that is the spirit and energy behind the UWSA Bike Lab. She was one of four students who created a short film documenting the group's aspirations for an all-season cycling repair and advocacy centre.
Christie has represented UWinnipeg at several sustainable gatherings, including the Power Shift National Youth Gathering in Ottawa. She will represent the UWSA with two other colleagues at the international Velo-city Global, the world's premier international cycling planning conference in Vancouver, BC this summer. She also organized several awareness building campaigns related to climate change including the lead up to the 2010 climate talks, Bringing Copenhagen Home. Christie has left her mark at The University of Winnipeg by advancing sustainable transportation on campus. She has increased awareness in innovative sustainability projects - encouraging others - young and old - to redouble their sustainability efforts.