Judy Tanner
Stars of Spence Street Prize
---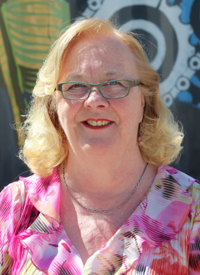 If students are the lifeblood of The University of Winnipeg, then Judy Tanner can be found at its heart. As Coordinator of Student Records, Tanner is responsible for overseeing critical data and systems, which include the processes responsible for registering students, maintaining accountable records, and administering grades.  She is also the designated academic advisor for all Wesmen athletes, and assists the coaches when they are meeting with recruits from around the world.
Effective flow of information requires precise coordination among departments—a challenge Tanner meets with professionalism and a calm, reassuring demeanor.  Over her three decades in the Student Records office, she has become a go-to resource for her colleagues on all things at The University of Winnipeg. Tanner played an important role in initiatives like the opening of Student Central and was part of the team that transitioned  student registration from manual to online through WebAdvisor. Most recently, she was a key contributor to the University's new Student Planning tool—a project that reflected her commitment to improving the student experience.
Tanner consistently recognizes the human being behind each number, and goes out of her way to assist students—whether it's advising on course selection or cheering them on as a fervent Wesmen supporter. One student credits the advice Tanner provided during registration for allowing him to focus on success in academics and sports. Following a national championship win, that student wasn't surprised to run into a congratulatory Tanner in the hall—while on his way to a class she had helped him select.
Tanner is a classic unsung hero:  her behind-the-scenes impact is vital, but difficult to see when the University is operating efficiently. As such, The University of Winnipeg recognizes her as a Star of Spence Street.
Photo © UWinnipeg