Lois Martin
Stars of Spence
---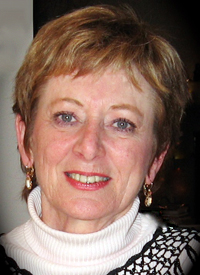 B.A., Cert.Ed.
The University of Winnipeg has been blessed with Lois Martin's dedicated service for almost 27 years, most recently providing her knowledge, her constant consideration and her commitment to professionalism as Coordinator of Domestic Admissions.
Drawing on her past experience in recruitment (throughout Manitoba and as far north as Rankin Inlet) and as an educator in Saskatchewan and Manitoba schools, Martin is passionate about teaching new things to those she encounters. Known for a willingness to make time to answer questions from potential students, Martin's genuine caring becomes evident to all who meet with her in the Admissions Office. She has been praised by University Registrar Colin Russell for her ability to balance "the University's guiding principles of access and excellence" by upholding academic standards while recognizing when an applicant may need support in order to "present evidence of their potential".
Her time in UWinnipeg's Admissions Office has seen her doing everything from patiently providing help and compassion to students overwhelmed by applying with foreign credentials, to assisting with the development of departmental admissions processes for new programs. She has generously given of her time to numerous committees, including those for Admission Appeals, Calendar Edit, and Student Retention; the Joint Institutional Committee on Criminal Record Checks; and the Manitoba Advising Professionals Steering Committee. She was also a project team member for the development and implementation of UWinnipeg's Colleague Student Information System. All the while, Martin's character and devotion has established strong bonds and mutually respectful relationships with her colleagues, who are entertained by her dry wit.
For always going the extra mile to improve the UWinnipeg future student's experience at entry point while dispensing invaluable advice to her colleagues, The University of Winnipeg recognizes Lois Martin as one of its unsung heroes, a true Star of Spence Street.