Craig Willis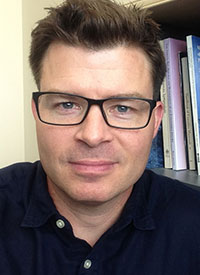 BSc (Hons), MSc, PhD

Dr. Craig Willis is known at The University of Winnipeg as "The BatProf" because of his work on the ecology and conservation of North American bats. Over the past decade, Willis has become a leading authority on white-nose syndrome (WNS), a disease that is devastating bat populations across North America.
Just five years into his tenure at the University, Willis was named the first Chancellor's Research Chair for his emerging work to understand WNS. And in 2016, he was promoted two years earlier than normal to the rank of professor in UWinnipeg's Department of Biology.
Since his arrival in 2006, Willis has been awarded $2.9 million in external research funding, including more than $1.25 million from the US Fish and Wildlife Service — particularly impressive for a Canadian research group, as the USFWS is focused on problems of significant American national interest and rarely funds international research. He's also received funding from the Species at Risk Research Fund of Ontario, Bat Conservation International, and the Manitoba Hydro Forest Enhancement Program, to name a few, as well as multiple grants from NSERC. In 2015 he won a NSERC Discovery Accelerator award, given to NSERC Discovery applicants who "have a superior research program that is highly rated in terms of originality and innovation and who show strong potential to become international leaders within their field."
Willis has authored or co-authored more than 100 peer-reviewed journal articles and book chapters, along with numerous edited reports; and authored or co-authored more than 180 conference presentations. He's also trained eight post-doctoral fellows, one PhD student, 15 MSc students, 16 BSc thesis students, more than 40 field assistants, and many volunteers.
Willis is passionate about public outreach and science communication. He and his students have given dozens of public talks and workshops about bat biology and wildlife conservation and their work on WNS has been covered by many national and international media outlets, including CBC's The National, The Current, and Quirks and Quarks, and international media including The Guardian, and the BBC.
For his exceptional productivity, mentorship, and continued dedication to wildlife conservation research, The University of Winnipeg is proud to present Dr. Craig Willis with the Erica and Arnold Rogers Award for Excellence in Research and Scholarship.