Melanie Martin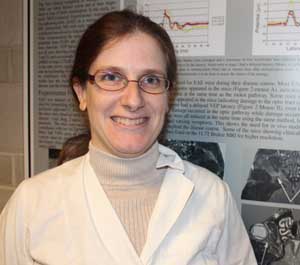 When it comes to relevant research in the area of neurological disorders, UWinnipeg's Associate Professor of Physics Melanie Martin, stands out for her distinguished work and is internationally respected in her field. Currently, she is developing state-of-the-art, accurate, magnetic resonance imaging techniques for identifying and quantifying the physical effects of debilitating central nervous diseases (i.e. multiple sclerosis and Alzheimer's) at the earliest stage possible would lead to better outcomes.
Her graduate degrees were obtained at Yale University, where she was the first PhD graduate from their Biomedical Engineering program and where she held the prestigious Pierre Hoge fellowship.
Undeniably, Martin is one of the University's top grant-supported researchers. She has held numerous Natural Sciences and Engineering Research Council (NSERC) grants, the University's first million dollar Canadian Foundation for Innovation (CFI) grant, an operating grant from the Manitoba Research and Infrastructure fund, along with other various grants from Canadian Institutes for Health Research, Health Sciences Centre, Heart and Stroke Foundation and Manitoba Medical Services Foundation.
Her academic research and relevance has resonated with 23 scientific personnel in her research program that she mentored over the last six years. Experts in a variety of fields are attracted to her research including Dr. Xin-Min Li, an expert in Psychiatry and a leader in expanding neurosciences research in Manitoba.
Martin serves on several prestigious international scientific boards and committees and has established international collaborations with Southeast University (China), the Institute of Mental Health at Peking University (China), University of Manitoba, Memorial University, University of Ottawa, University of British Columbia, University of Toronto, University of Saskatchewan, McGill University, Caltech, and St. Boniface Research Centre.
Dr. Melanie Martin encompasses the spirit of the Erica and Arnold Rogers Award for Excellence in Research and with her contributions has also contributed to UWinnipeg's reputation in excellence in research and scholarship.