Michael MacKinnon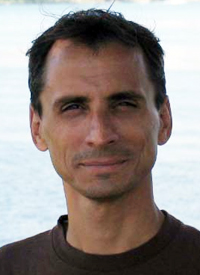 PhD, MA, BA, BSc
Dr. Michael MacKinnon is known for his remarkable productivity and exemplary performance as an internationally-recognized researcher and scholar in the field of zooarchaeology.  Colleagues note MacKinnon for the quality, breadth and value of his research contributing to a greater understanding of ancient Mediterranean societies. While many scholars who work in related fields focus on either physical or textual evidence, MacKinnon's interdisciplinary aptitude for data synthesis paints the richest picture possible and gives context to what he discovers through faunal analysis. 
MacKinnon has published two monographs, one of which earned him the coveted International Association for Classical Archaeology Publication Prize in 2002. He has authored or co-authored 18 peer-reviewed book chapters, 23 peer-reviewed journal articles, 11 book reviews, 42 technical reports and 48 peer-reviewed conference poster or paper presentations. He has been invited to tour as an Archaeological Institute of America National Lecturer six times, and has delivered lectures to audiences that range from second-graders to graduate students at Harvard.
While the volume of his research output is commendable, the depth and excellence of MacKinnon's  work has enhanced his distinguished reputation. He is known in the field as an efficient and accurate investigator, and in academia as a curious and insightful scholar. MacKinnon is also the vice-president of the Winnipeg Society of the Archaeological Institute of America.
MacKinnon began his career at UWinnipeg in the Department of Anthropology in 2001, rising to the rank of professor in the Department of Classics in 2014. He has served as a Malcolm H. Wiener Visiting Research Professor at the American School of Classical Studies at Athens (2010-2011), a Rome Scholar at the British School at Rome (2002) and a Postdoctoral Research Fellow at Boston University. He has also instructed at the Massachusetts Institute of Technology, and the University of Alberta.
For his continued dedication to illuminating undiscovered secrets of the classical world and his efforts to share his profound knowledge, The University of Winnipeg is honoured to present Dr. Michael MacKinnon with the Erica and Arnold Rogers Award for Excellence in Research and Scholarship.