Christopher Bidinosti & Christopher Henry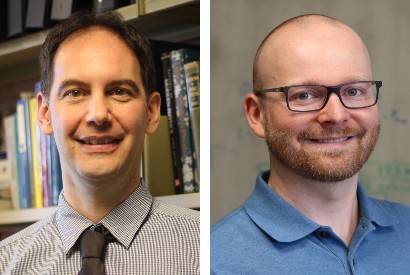 Christopher Bidinosti – BSc, MSc, PhD

Christopher Henry – BSc, MSc, PhD
Dr. Christopher Bidinosti and Dr. Christopher Henry are visionary researchers whose combined expertise and commitment to interdisciplinary collaboration is advancing digital agriculture and driving innovation.
Both as individual researchers and as a team, they have forged successful industry-academia partnerships that have opened doors to the development of new technologies that wouldn't be possible without their combined talents in physics and applied computer science.
Dr. Bidinosti's research centres around novel methods of nuclear magnetic resonance and its application in diverse fields such as medical imaging and fundamental physics.
Dr. Henry's expertise is in the development of theoretical frameworks that model human perception for machine learning applications.
It has been close to a decade since the pair began working together, brought together by a mutual interest in GPU-based computing and their shared understanding of its capacity to solve problems that impact every domain of research and industry. A hallway conversation led to an ongoing research partnership and the development of a state-of-the-art computing laboratory that is home to a large and successful research program with 20 researchers across five disciplines, collaborations with approximately 12 industry partners, and more than $3 million in funding.
Their shared vision of creating a high-quality, labelled image database that is accessible to industry and academy and can be used to train computers and robots to recognize prairie crops will have a profound impact on local and global food production for generations to come.
For their unique and innovative multi-disciplinary collaboration, The University of Winnipeg is proud to present Dr. Christopher Bidinosti and Dr. Christopher Henry with the Erica and Arnold Rogers Award for Excellence in Research and Scholarship.