Ian Burley
Clifford J. Robson Memorial Award for Teaching Excellence
---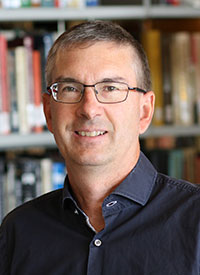 BSc
Despite the challenges that come with teaching a required first-year course to more than 200 students, Ian Burley has a way of making long-lasting connections with his physics pupils.
Recognized for his openness to trying innovative ways of learning, along with his accessibility to students outside of class, Burley consistently receives glowing course evaluations with complimentary reviews of his teaching style.
A former student who took Burley's Introduction to Physics course said: "This was my favourite class that I took this year, and although it was somewhat hard, I would take it again. The professor is really great, his explanations are really clear, and he makes really complicated material a lot easier to understand. He is available and interested in helping students in the most respectful and caring way."
Before teaching it at UWinnipeg, Burley taught the introductory physics course for 17 years to students in northern Manitoba communities. Using a distance education system, he was able to effectively communicate ideas around challenging physics information to students he could see only on a screen.
Burley's impact as an educator has come full circle — one of his former students, Cam Cerasani, is now a mathematics and physics teacher at UWinnipeg's Collegiate.
Cerasani credits Burley's guidance with influencing his career path: "My experiences with Ian directly inspired me to pursue a career in physics education. He was an exemplary role model and provided me first-hand experience and an example of what it meant to be an excellent teacher." 
For furthering his students' education through innovative methods of teaching, always being accessible outside of class, and helping them develop a passion for the subject of physics, The University of Winnipeg is proud to present Ian Burley with the Clifford J. Robson Memorial Award for Teaching Excellence.