Bob Silver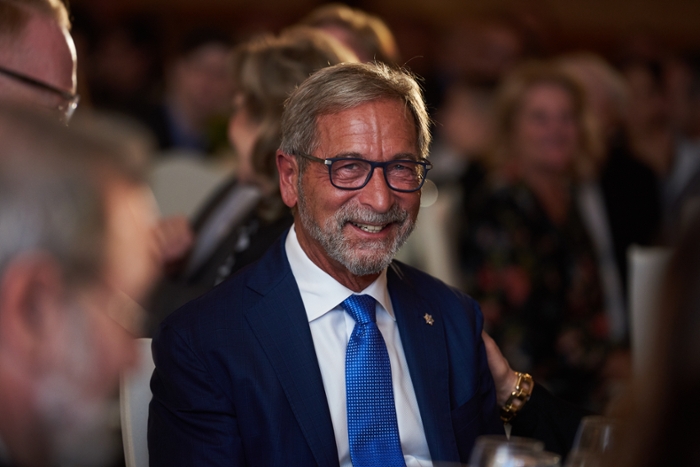 Bob Silver, Chancellor of UWinnipeg, recieved the 2018 Duff Roblin Award. PHOTO: David Lipnowski
For more than 35 years, Bob has made an extraordinary contribution to the business and community sectors at the local, national and international levels. He is the president and co-owner of Western Glove Works Ltd. and co-owner of Urban Barn, Auld Phillips, and Comark retail chains.
Additionally, he is a co-owner of the Brandon Sun, the Winnipeg Free Press, the CanStar Weekly, and Derksen Printers in Steinbach. He was also a founder of Canterbury Park. In the business community, he has been involved on a number of boards including CentrePort Canada, the Business Council of Manitoba, the First Peoples Economic Growth Fund, the Winnipeg Convention Centre, and was co-chair of the Premier's Economic Advisory Council.
In the community-at-large, he gives his time to a multitude of causes such as the Winnipeg Library Foundation, where he helped spearhead the campaign to build the new Millennium Library, and the Grow Winnipeg initiative of the Jewish Federation. He is also a past chair of Destination Winnipeg (now Economic Development Winnipeg) and the United Way of Winnipeg. Presently, Mr. Silver also serves as the Chancellor of The University of Winnipeg and as co-chair of We Day Winnipeg.
Bob's commitment to The University of Winnipeg extends far beyond his roles as Chancellor and Foundation Board member, he and his wife Kim, are also dedicated donors with particular interest in building pathways to education and supporting under-represented and non-traditional students on campus. 
He has received many honours including the Order of Manitoba in 2012 and The University of Manitoba's Alumni of the Year award. Both JNF and the B'nai Brith have honored him as Man of the Year and in 2002 he was awarded an Honorary Degree from Red River Community College.  He was also recognized by the Manitoba Chamber of Commerce as a member of the Business Hall of Fame.