Bob Kozminski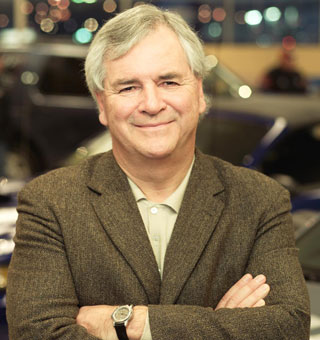 Dr. R. M. (Bob) Kozminski received his Bachelor of Arts degree from The University of Winnipeg in 1967. He graduated from the University of Manitoba Law School in 1970, and was called to the Bar of the Law Society of Manitoba in 1971. While Bob was maintaining a very active law practice, his family company became owners of the Budget Rent-a-Car/Truck franchise in Winnipeg which he sold in December, 2004. In 1986, Dr. Kozminski decided to leave the practice of law, buying at first a minority interest in Keystone Ford in partnership with the Ford Motor Company, and within two years acquiring control of 100% of the common shares with the Ford Motor Company. Over the years, with Bob as CEO, the family company expanded its business activities to include residential and commercial real estate development, owning Jaguar on Sargent, Winnipeg Hyundai, Valley Chevrolet Oldsmobile in Neepawa, Giant Pump Pressure Systems, Volvo, and Jaguar Land Rover of Winnipeg and an interest in Ranger Insurance on Regent. All of the preceding businesses have now been sold.
In addition to his lengthy resume of business pursuits, Dr. Kozminski has made a positive impact on numerous community organizations through his tireless philanthropy and campaigning. One of his proudest accomplishments is the Aboriginal Awards Program at the Business Council of Manitoba which he established and continues to chair. The program has distributed almost $6M in awards and has approximately $700,000 endowed at the Winnipeg Foundation. Bob has been especially influential in the growth and development of The University of Winnipeg. A founding member of the UWinnipeg Foundation Board of Directors (2003), he currently serves as Vice-chair. On this board, Dr. Kozminski has led planning efforts for the annual Duff Roblin Award Dinner, now in its 11th year, in support of The Duff Roblin Scholar's Fund, whose endowment now totals over $1.2 Million as well as raising over $300,000 in support of The University's Pathways to Education initiatives, including the Truth and Reconciliation Commission of Canada Scholarship Fund, and The Opportunity Fund. Additionally, his leadership as campaign chair was integral to the success of UWinnipeg's "A World of Opportunity Capital Campaign" which raised over $135 million, making not only The University's remarkable recent campus development possible, but also resulting in the creation of over 300 new student scholarships, bursaries, and awards.
Bob Kozminski and his wife Deirdre Hall (nee Campbell) have two adult children, son Matthew (wife Kelly) and two grandchildren, Carter and Chandler, and daughter Megan (partner Kyle Fargey).  Dr. and Mrs. Kozminski provide generous support to local charities such as the Royal Winnipeg Ballet, Health Sciences Centre, The University of Manitoba, Ducks Unlimited, The United Way, CancerCare Manitoba, and many more.
Bob's board memberships have included:
Past President of the Manitoba Motor Dealers Association
The Canadian Auto Dealers Association
Founding Board member of the Business Council of Manitoba
Past Chairman of the University of Manitoba Development Council/Campaign Cabinet for $430M fundraising campaign
Winnipeg Jets Hockey Team
Member of The University of Manitoba Faculty of Management Associates Program
Winnipeg Enterprises Corporation
Manitoba Director of the Canadian Broadcasting Corporation/Chair of Audit Committee
Prairie Ford Dealers Advertising Association/Ford of Canada Dealers Council
Founding Chair of the Lake of the Woods Hospital Foundation Dinner – which to date has raised over $1.2 M
Fundraiser for 1999 Winnipeg Pan Am Games
Co-Chair of World Women's Hockey Tournament 2001 Fundraising Committee
Chairman, Progressive Conservative Manitoba Fund
Miles Macdonell Collegiate Alumni Reunion
The University of Winnipeg Foundation Vice Chair and Capital Fundraising Chair
Ducks Unlimited Canada/Development Committee Chair/Chair of $500M Fundraising Campaign
Dr. Kozminski assists and advises several institutions with their fundraising activities, including the Holy Family Home, Lake of the Woods Museum Art Centre, Balmoral Hall School ($5M Art Centre Campaign), the Winnipeg Art Gallery (Honorary board member for Inuit Art Centre Campaign), and the Bruce Oake Foundation.
Bob is a member of the St. Charles Golf and Country Club, The Manitoba Club, World President's Organization and the Wyndemere Golf and Country Club in Naples, Florida.
In 2012, UWinnipeg honoured Kozminski with an Honorary Doctorate of Laws for his many contributions as a business leader, dedicated community volunteer, and philanthropist.