Edward Kennedy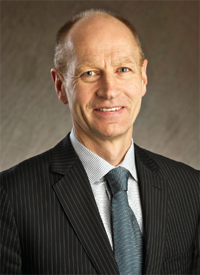 Edward Kennedy joined The North West Company in 1989. He has served in a number of senior  management positions including Chief Operating Officer of North West and Chief Executive Officer of the  Alaska Commercial Company, the Company's U.S. subsidiary located in Anchorage. Edward returned to Winnipeg from Alaska in 1997 and assumed his present position. He is also Chairman and Chief Executive Officer of The North West Company (International) Inc.
Edward was born and raised in the northern Manitoba community of The Pas and attended high school as a boarding student at St. John's-Ravenscourt in Winnipeg. He holds an Honours Degree in Business from the Ivey School at the University of Western Ontario and a Bachelor of Laws Degree from Osgoode Hall Law School. Prior to joining North West, Edward practiced law briefly in Toronto and then worked in investment banking. 
Edward is a board member of The North West Company, Transport Nanuk Inc., St. John's-Ravenscourt School, United Grocers Inc., Retail Council of Canada, the Advisory Board of the Richard Ivey School of Business (University of Western Ontario) and the Advisory Board of the University of Alberta School of Retailing. He is a member of the Young Presidents' Organization, the Associates of the Asper School of Business (Faculty of Management, University of Manitoba), the Canadian Council of Chief Executives, as well as a member and past officer of the Business Council of Manitoba. Edward is the Chair of the 2011 Winnipeg United Way Campaign and is Co-chair of the current St. John's-Ravenscourt School Capital Campaign. He is a past Director of Red River College, Destination Winnipeg Inc., The Conference Board of Canada, Balmoral Hall School, Buhler Industries, and the Alaska Growth Fund.
In 1999, Edward was named a recipient of Canada's "Top 40 Under 40" award, an annual program that recognizes young leaders across the country. In 2000, he was awarded an Honorary CMA designation by CMA Canada and, in 2003, he was recognized as a finalist for the Lieutenant Governor's Community Citizenship Award. In June 2006, Edward was presented with the Retail Council of Canada's "Distinguished Canadian Retailer of the Year" award. In October 2007, he was presented with the University of Alberta School of Retailing's "Henry Singer Award" for exceptional leadership in the Canadian retail sector.
In October 2009, Edward received the "Top Retail Executive" award from Canadian Business magazine.
Edward is a competitive athlete and his other interests include public policy and economic and social development. Edward and his wife Stella make their home in Winnipeg with their four children: Grace, 22; Teresa, 20; Simone, 18; and Daniel, 15.