Jan Belanger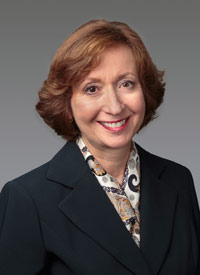 Since 1992, as Assistant Vice-President of Community Affairs for Great-West Life and its subsidiaries, Jan Belanger has led the strategic policy development, direction and public reporting of award-winning corporate citizenship programs for Great-West Life, London Life and Canada Life.
Jan is a frequent contributor and presenter on issues and trends in corporate social responsibility and in corporate and voluntary sector relations. She is recognized for her commitment to building stronger understanding between the two sectors and is an advocate of moving issues forward through innovation, collaboration, and knowledge exchange. Her approach has resulted in active national and local leadership, championing visionary thinking, bridging organizations and people, and enabling new ideas and solutions.
She has served many local organizations including the United Way of Winnipeg, Winnipeg Poverty Reduction Council, the Canadian Club of Winnipeg, and Manitoba Chamber Orchestra Board. In an advisory capacity, she has served national health and education organizations, United Way/Centraide Canada, the Conference Board of Canada/Canadian Centre for Philanthropy's CRS Benchmarking Project Business Advisory, and the Canada Post Foundation for Mental Health Grants Advisory Committee. She was a Director of the Canadian Centre for Philanthropy (now Imagine Canada) and was the inaugural Chair of the Conference Board's Corporate Community Investment Council, serving two consecutive terms. With her business colleagues, Jan co-created the concept of Great-West Life's Centre for Mental Health in the Workplace, a freely-available, evidence-based public resource.
Under Jan's leadership, Great-West Life, London Life and Canada Life have been recognized nationally and locally for their community engagement and social responsibility. The companies count earning Outstanding Corporate Citizenship honours in Winnipeg, Regina, and London, Ontario, and being the second corporation to be named for the prestigious AFP Toronto Outstanding Corporation Award. The corporation has also been recognized by ABC Life Literacy Canada, Business for the Arts, Canadian Mental Health Association, Canadian Museums Association and the Canadian Association of Gift Planners, among many others.
Jan currently serves on Boards addressing community, economic, and leadership development including the Winnipeg Chamber of Commerce and the University of Winnipeg Community Renewal Corporation. She is a frequent contributor to the KCI Ketchum Canada Advisory Network and Co-chairs Leadership Winnipeg's advisory network.
Born and educated in Manitoba, Jan and her husband, Marcel, are Winnipeggers by choice. In 2012, Jan was awarded the Queen Elizabeth II Diamond Jubilee Medal.
In her own words: "Every contact, every meeting, is an opportunity to learn from each other. I've been privileged to work with a wide range of community and thought leaders and have experienced their insights and commitment. Nothing is ever achieved in isolation, and I share this Award with them".