Vic Toews
Honorary Doctorate
---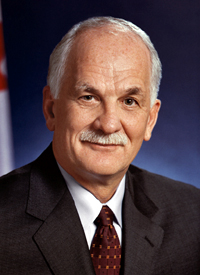 Vic Toews, BA, LLB, PC, QC
Honorary Doctor of Laws
Vic Toews first came to Manitoba as a child in 1956 with his family. He is a Canadian citizen born in Paraguay where his father had been teaching in a Mennonite colony in the Chaco.
His parents were immigrant Canadians who were both born in Ukraine and who also came to Canada as children. Like many immigrants who have come to this country, his parents instilled in their children a deep sense of gratitude and appreciation to a country that took them in and provided them with unlimited opportunities to succeed. 
Like his five siblings, he also learned from his parents the value of a post-secondary education. All six graduated from universities in Manitoba from a variety of faculties. 
As a young man, Toews attended and graduated from The University of Winnipeg in 1973 with a Bachelor of Arts degree in History. He credits the University with providing him with a solid liberal arts education which contributed significantly to his later success.
Aside from the practical research, writing and other academic skills he developed during the course of his studies at the University of Winnipeg, he is particularly appreciative of the love of literature, and especially poetry, that a number of his professors instilled in him. 
His considerable career achievements are directly attributable to the skills he developed during the course of his studies at this university. 
Toews practiced law with the Manitoba provincial Department of Justice from 1976 to 1991. In the course of that employment he served as a Crown prosecutor and a Crown attorney in civil legal services. In 1987 he was appointed Director of Constitutional Law for the Province of Manitoba. In that capacity he represented the Attorney General in many important constitutional cases at all levels of court, including a number of cases before the Supreme Court of Canada.
He acted as legal counsel to the Premier of Manitoba at the Meech Lake Accord discussions in 1990 and was appointed Queen's Counsel by the Government of Manitoba in 1991.
During his time at the provincial Department of Justice Toews developed and implemented laws that were designed to enhance public confidence in the Justice system. For example, he introduced Manitoba's  administrative "suspended and drunk driving" measures which allow police to immediately suspend the licenses of intoxicated drivers and seize the vehicles of suspended drivers. It's fair to say this law has prevented hundreds of deaths and injuries. Since their adoption by the Province of Manitoba these laws have also been adopted in many provinces across Canada. 
After a distinguished legal career, in 1995 Toews entered provincial politics. He was elected as the Member of the Manitoba Legislative Assembly for Rossmere and shortly thereafter was appointed Minister of Labour. From 1997 until 1999, he served as the Attorney General and Minister of Justice for the Province of Manitoba.
Toews was first elected to the House of Commons in 2000 and re-elected in 2004, 2006 and 2008. He has served as the Justice critic while in opposition and in government he has served in three consecutive cabinet positions. In February 2006 he was appointed Minister of Justice and Attorney General of Canada, in January 2007 he was named President of the Treasury Board, and in January 2010 he was named Minister of Public Safety.
While he is the elected representative for the riding of Provencher in Manitoba, the Prime Minister has also  given him the distinct honour of serving Manitoba as its Regional Minister for the Government of Canada. In this capacity he works to represent all Manitobans.
Toews has always shown a strong interest in educational matters and has lectured from time to time on  various legal and governmental issues at the University of Winnipeg.
Toews is grateful to have had the opportunity to serve the people of his province and his country as a public  servant. He is known by colleagues as a hardworking and committed Member of Parliament. He is proud to represent Manitoba, and to represent The University of Winnipeg as an alumnus.