Paul Griffith Thomas
Honorary Doctorate
---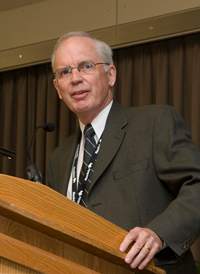 BA, MA, PhD
Honorary Doctor of Laws
Paul Griffith Thomas is a homegrown treasure who has served as a scholar, teacher, researcher, and mentor in the field of public administration for over 40 years. He has encouraged an ethical standard for public service in Manitoba and has helped raise the bar for public servants.
Thomas's most significant contribution to public administration (in partnership with Dr. Robert Adie) was to establish the joint Master in Public Administration (MPA) program offered by University of Manitoba and The University of Winnipeg. Since its inception in 1976, the MPA program has produced a stream of well-educated recruits for public service, while building a strong foundation of scholarship and incisive research in public administration.
Thomas is a highly respected professor known to challenge his pupils and their perspectives with his breadth and depth of knowledge. He has built a remarkable network of past students, who now serve a range of communities in all levels of government and civic agencies. His wisdom is often sought on many matters in a wide range of policy areas, including health care and electoral issues.
Thomas has made a significant contribution to the public sector through his scholastic research. His writings are a guide for navigating policy, administrative, and ethical issues; he has authored over 150 scholarly articles and book chapters throughout his distinguished career, and has served for six years as editor of the prestigious journal Canadian Public Administration.
Always a believer in combining theory and practice, Thomas designed and was the first Academic Director of the Manitoba Legislative Internship, an academic program that annually provides six university graduates with the opportunity to provide research assistance to MLAs and to gain firsthand experience of the legislative process.
Thomas is a recipient of the Vanier Medal, awarded by the Institute of Public Administration of Canada; the Order of Manitoba, the province's highest award for public service; and many other honours for his teaching, research, and volunteerism.
The University of Winnipeg is proud to award Paul Griffith Thomas an Honorary Doctor of Laws for his impactful contributions to public administration through teaching, scholarship, service, and passion for excellence.