Leslie Spillett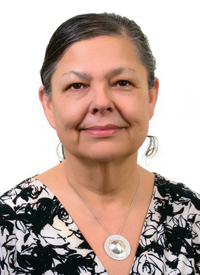 Leslie Spillett, BA (Honours)
Honorary Doctor of Laws
Leslie Spillett has made vast contributions for more than three decades to Winnipeg's inner-city and Indigenous community as an activist and advocate. She brings Indigenous and non-Indigenous Manitobans together on a wide range of issues that touch many aspects of the human spirit.
Spillett founded one of Manitoba's most visionary Indigenous organizations a decade ago, Ka Ni Kanichihk, translated from Cree meaning "those who lead",  to support women and their families. Culturally-based, Aboriginal-led services include leadership development, mentorship, skill-specific training, community and economic development.
During that same time Spillett launched an annual June dinner entitled Keep the Fires Burning, an event that recognizes the importance of traditional knowledge and the status of Indigenous women.
Spillett also reaches out to honour marginalized youth. She founded Anishinaabe Oway-Ishi Inc. to recognize the outstanding achievements of Manitoba's Indigenous youth.   
She served four years in an executive role on the Native Women's Association of Canada Board of Directors. During her tenure she began the Sisters in Spirit campaign to raise awareness and action regarding the hundreds of missing, murdered Indigenous women in Canada and participated in the Amnesty International research, and subsequent report Stolen Sisters. Spillett has represented these missing women at a UN World Conference Against Racism in 2001 and at a UNESCO conference in 2005.
Spillett also invests her time and contributes to The University of Winnipeg in a number of ways.  She volunteers her time with the Indigenous Advisory Circle for the Master's in Development Practice Program and has been a dialogue Associate for Global College. She is also an instructor for Adventures in Global Citizenship, an intensive summer institute on human rights.
Today, The University of Winnipeg is honoured to present Leslie Spillett with an Honorary Doctor of Laws for her notable career as a compassionate advocate and activist.