H. Sanford Riley
Honorary Doctorate
---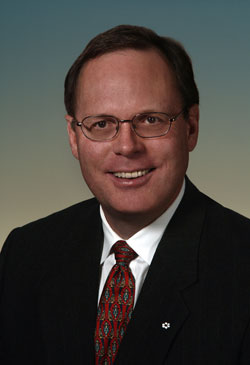 The University of Winnipeg is proud to present H. Sanford Riley with an Honorary Doctor of Laws in recognition of his service with great distinction to the University as its Sixth Chancellor and for his consistent contributions to our campus and our community. Riley has served as UWinnipeg Chancellor for nine years, during which time the University has shown remarkable growth and development as a campus.
Founding Chairperson
He was appointed the founding Chairperson of The University of Winnipeg Foundation Board of Directors. During his time as Chair, a $70-million capital campaign has been launched and is now well underway. He also presently serves as a director on a number of boards, including Molson Coors Brewing Company and The Canada West Foundation, and he is the Chairperson of The North West Company Board of Directors.
Riley is the President & CEO of Richardson Financial Group Limited. He has served in this capacity since May 2003, following his career as Chairperson of the Board for Investors Group and subsequent to the nine-year period where he served as Investors Group President and Chief Executive Officer. His past and present involvement in community activities is extensive. His many roles have included that of Chairperson of the United Way Campaign in Winnipeg and Chairperson of the Manitoba Sports Federation. He served as Chairperson of the Board for the highly successful Pan American Games held in Winnipeg in 1999. He was also the Chairperson of the Business Council of Manitoba.
Commitment to UWinnipeg
Riley's commitment to UWinnipeg has also been personal, as he made a generous donation to the school to establish a new fellowship fund. The H. Sanford Riley Fellowships in Canadian History are designed to initiate dynamic relations between the University and the country's top historians. The fellowships will enable these historians to visit the University to undertake research projects, conduct academic seminars and offer public lectures on the history of Canada. Each fellow will be invited to deliver a Distinguished Lecture to the community and to develop an interest in Canadian history among high school students.