Robert J. Sawyer
Honorary Doctorate
---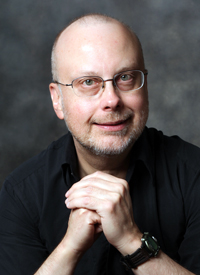 BAA, DLitt
Honorary Doctor of Laws  
Named the 'the dean of Canadian science fiction' by The Ottawa Citizen, Robert J. Sawyer is a revered bestselling author in Canada and among the most distinguished in the world. According to Locus Index to Science Fiction Awards, Sawyer has won more awards for his novels than anyone else in the history of the science fiction and fantasy fields.
Sawyer is one of very few around the globe to hold the triple crown of science fiction writing awards: the Hugo; the Nebula, a.k.a. "the Academy Award" of science fiction; and the John W. Campbell Memorial Award. He also has won the Canadian Science Fiction and Fantasy Award ("the Aurora") a record 14 times.
His writing has an extraordinary capacity to transcend generations and disciplines, attracting a diverse readership. Sawyer's lucid prose often explores the interplay between religion and science. He accurately explains many scientific concepts and research activities, from quantum physics to genetics. Sawyer's fiction often engages the reader in questioning the advancement of scientific knowledge and the struggle to elaborate on and develop appropriate ethical principles to meet scientific advancements.
In addition to his novel writing, Sawyer has done film and television work; his book FlashForward was turned into an ABC TV series with the same name. He has served as a consultant to Canada's Federal Department of Justice (concerning the shape of future genetics laws), NASA (on future space station plans), and many other organizations.
Sawyer adds significant lustre and depth to the Canadian academic community. He has earned other honours, including The Humanism in the Arts Award and an honorary doctorate from Laurentian University. Sawyer has taught writing at numerous universities and has served as a Writer-in-Residence at institutions across the country.
The University of Winnipeg is honoured to present Robert J. Sawyer with an Honorary Doctor of Laws for his prolific broad body of work and for realistically portraying the relevance of science to the human condition.