Albert William McLeod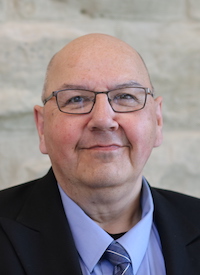 Honorary Doctor of Laws
Over the past 35 years, well-respected knowledge keeper Albert McLeod has worked tirelessly for the rights of Two-Spirit (2S), lesbian, gay, bisexual, trans, and queer (2LGBTQ+) people in the local community and across the continent. 
McLeod is a status Indian with ancestry from Nisichawayasihk Cree Nation and the Métis community of Norway House. Known as a progressive thinker and visionary, McLeod has led the way for rights and recognition of 2S people in North America since 1986. Recognizing the importance of Elder Myra Laramee's vision of  Two-Spirit in 1990, McLeod has worked with LGBTQ Indigenous people across the continent to organize under the name "Two Spirit" to remember the honoured roles of non-binary gender people in pre-contact First Nations, and the important spiritual role they played within their communities. Since then, the movement has grown to involve organizations throughout North America. It has also made an impact on academia that includes research and scholarly books on various aspects of Two-Spirit history, philosophy, and sociology.  
McLeod is recognized as a pioneer in HIV education for Indigenous people. His commitment to 2S people and Indigenous people living with HIV/AIDS is evident in the range of service commitments he has made over the years, including an HIV-101 workshop that he developed and delivered. This education program was instrumental in reducing the stigma experienced by families living with HIV/AIDS. McLeod's innovative leadership led to the development of services for impacted communities, including Nine Circles Community Health Centre, Canadian Aboriginal AIDS Network, and Ka Ni Kanichihk's HIV intiatives. . 
Last year, as an organizing committee member, he played a key role in the success of an historic event hosted by UWinnipeg: Two Spirit and Queer People of Colour (QPOC): A Call to Conversation with LGBTQ and Allies (C2C). He also participated on the Advisory Council to help the Government of Canada develop an apology for injustices faced by 2LGBTQ+ communities.
McLeod's work extends beyond the 2LGBTQ+ community. He is also engaged in human-rights activism, cross-cultural training, cultural reclamation, and language workshops, and has served as an advisor and activist for Winnipeg's inner-city community.
For his wide-ranging contributions to Two Spirit people and Indigenous people living with HIV/AIDS, as well as for his community-based advocacy and dedication to human rights for all genders, The University of Winnipeg is proud to present Albert McLeod with an Honorary Doctor of Laws.