Chantal Kreviazuk
Honorary Doctorate
---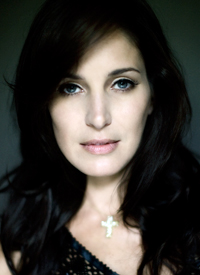 Honorary Doctor of Letters
Chantal Kreviazuk is one of the most notable graduates of the University of Winnipeg high school on campus - the Collegiate (Class of 1990). She has become one of Canada's leading female artists, an internationally respected Juno award-winning singer-songwriter and musician, classically trained pianist, actress, movie producer, philanthropist and humanitarian.
Originally from a Manitoba farming community and raised in Winnipeg, Kreviazuk is of Ukrainian, Scottish and First Nation Cree heritage. Kreviazuk recalls with great fondness her maternal grandparents' musical talent, and spent many evenings listening to them play fiddle and harmonica together. They were her biggest musical influence, and she feels her Aboriginal ancestry may be the source of her musical and creative spirit.
In December 2006, Kreviazuk returned to her UWinnipeg roots to help launch the Opportunity Fund in conjunction with Dr. Lloyd Axworthy, President and Vice-Chancellor. In keeping with her longstanding belief in the power of education, Kreviazuk's generous support for the Opportunity Fund helps Indigenous and new immigrant youth, and other students underrepresented in post-secondary education by removing financial barriers. The impact of the Opportunity Fund on individual lives is immediate. As of February 2014, just over $3 million has been raised and 1,443 fast track bursaries have been awarded to students in financial need, resulting in more than 200 UWinnipeg graduates to date.
Kreviaziuk is also a tireless supporter and honorary founder of War Child Canada as well as organizations devoted to child health, the rights of women and those suffering from mental health and addictions. Through her actions and accomplishments, Kreviazuk is an outstanding role model for youth who want to use their talents to make the world a better place.
The Canadian Academy of Recording Arts and Sciences announced Chantal Kreviazuk and her husband Raine Maida, lead singer of Our lady Peace, as recipients of the 2014 Allan Waters Humanitarian Award, to be presented during the 2014 JUNO Gala Dinner & Awards on March 29. Kreviazuk and Maida are raising three sons while pursuing their art with honesty and integrity.
For her compassion and commitment to education and social equality, The University of Winnipeg is honoured to award Chantal Kreviazuk an Honorary Doctor of Letters.