Tobasonakwut Kinew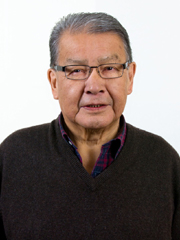 Tobasonakwut Kinew – BA
Honorary Doctor of Laws
Tobasonakwut Kinew is an esteemed member of The University of Winnipeg community in his multiple roles as Elder and Faculty for the Indigenous Governance department and Master's in Development Practice with a focus on Indigenous Development program.
As a compelling role-model and teacher, Mr. Kinew offers a graduate seminar, Pathways to Indigenous Wisdom, where students have their assumptions and world views challenged and enriched by a deep and complex understanding of Indigenous ways of knowing. By decolonizing the mind, students are open to imagining and, later, implementing governance strategies that are embedded in Indigenous teachings.
Born on a trapline in Lake of the Woods, Mr. Kinew was groomed from an early age by Elders for a political career and before the age of six was taken by an Elder to go on a fast and seek his vision. He is a pipe carrier, a high degree member of the Anishinaabe Mite'iwin, and a Sundancer of many years of both the Anishinaabe and Lakota traditions.
Through his long and varied career, he has instilled pride in his people, respect for all Indigenous peoples and their unique ways of thinking and perceiving the world. His journey has taken him to the Banff Centre for Management, the National Indian Brotherhood which he helped to renew in the 1960s, the Assembly of First Nations, and the International Indigenous Knowledge symposium in New Zealand (2009).  He is a founding member of the Native American Academy of Science and was the Elder for the Assembly of First Nations delegation visiting Pope Benedict XVI in April 2009.
Mr. Kinew is described as a man "who can walk in both worlds….who lives his life sharing the Anishinaabe teachings with others, to change the world for the betterment of all peoples," according to Phil Fontaine, LL.D '08, former national chief, Assembly of First Nations.
Tobasonakwut Kinew works tirelessly to bridge two realities, and leaves everyone he meets richer as a result.