James A. Richardson
Honorary Doctorate
---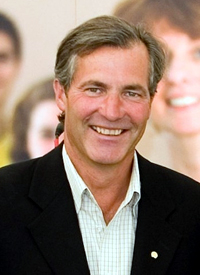 James A. Richardson is the great-grandson and namesake of the founder of James A. Richardson & Sons, Limited, a company that has contributed to Canada's growth since 1857. Richardson not only inherited his grandfather's name, he also inherited his grandfather's leadership skills and the family spirit of philanthropy. Richardson is renowned for his business acumen and tireless commitment to our community.
Richardson attended The University of Winnipeg Collegiate before obtaining a BA from Queen's University and launching his career at James A. Richardson & Sons, Limited.
Richardson's vision and practice of philanthropy is 'get involved', which he demonstrated at an early age.
For decades Richardson, has been at the forefront of community service, serving diverse organizations such as the Canadian Paraplegic Association, Big Brothers Big Sisters and the Canadian Olympic Foundation. His insight, leadership and generosity also extend to The University of Winnipeg, where he has contributed to the University, The Collegiate and The University of Winnipeg Foundation.
As a dedicated conservationist, Richardson is involved with Ducks Unlimited Canada, the International Wetlands and Waterfowl Research Institute and the Nature of Conservancy of Canada.
Richardson gives generously of his time, having serving on numerous boards and associations where he shares his insight and wisdom to benefit our community.