John and Bonnie Buhler
Honorary Doctorate
---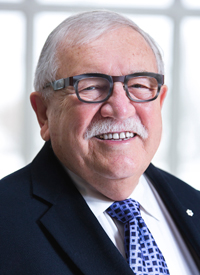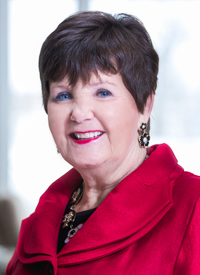 Honorary Doctor of Laws
John and Bonita (Bonnie) Buhler are well known for using their means to build a better community. Deeply devoted to their family, together the philanthropic couple from humble beginnings has five children, ten grandchildren, and two great-grandchildren.
In 1969 John Buhler purchased Morden's Standard Gas Engine Works and renamed it Farm King Limited. It was the first step in creating a farm equipment empire that was consolidated as Buhler Industries in 1994, and which later grew to include the tractor manufacturing plant Versatile, fulfilling Buhler's lifelong dream of building tractors.
Bonnie Buhler was born in British Columbia and moved to Winnipeg at age 12. She attended Kelvin High School before taking her first job at Manitoba Telephone Systems, later working as a legal secretary. She also took on the role as special events coordinator with Buhler Industries.
In 2007 John retired as the Chairman and CEO of Buhler Industries, having amassed a fortune that he and Bonnie are choosing to share with others. Bonnie was driven to help improve health care facilities after her daughter was diagnosed with a difficult medical condition; eventually their giving expanded to include education projects. as well. In total, the Buhlers have provided more than $60 million in charitable gifts, choosing charitable endeavours deserving of their time and passion in addition to financial support.
John has received many honours during his career, including "Manitoba Entrepreneur of the Year" in 1998, the Queen's Jubilee Medal for community service in 2002, an Honorary Doctorate from the University of Manitoba in 2011, and the Order of Canada in 2012. Bonnie Buhler was awarded the Queen's Diamond Jubilee Medal in 2012, and in 2007 together the couple was honoured with the Variety Gold Heart Humanitarian of the Year Award.
The legacy the Buhlers have created with their generosity now includes The Buhler Gallery at St. Boniface Hospital, The Buhler Cancer Centre at Victoria Hospital, the Buhler Reflective Gardens at St. Amant Centre, the Buhler Welcome Centre at the Manitoba Children's Museum, and the Buhler Commons and John and Bonnie Buhler Library at Red River College.  
In 2010 a major donation led to the opening of the Buhler Centre on the corner of Portage Avenue and Colony Street, now home to UWinnipeg's Faculty of Business and Economics as well as Professional, Applied Continuing Education. Part of the donation was used to establish the John and Bonnie Buhler Knowledge Fund, which provides generous scholarships and bursaries to a handful of deserving students annually.
For their devotion, commitment to caring, The University of Winnipeg is pleased to offer John and Bonnie Buhler an Honorary Doctor of Laws.