Elijah Harper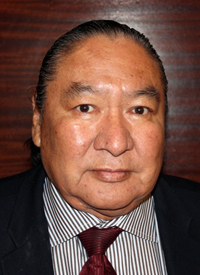 Elijah Harper – BA, 
Honorary Doctor of Laws
An Oji-Cree leader and residential school survivor, Elijah Harper has established his name in Canadian history as a constitutional maverick and continues to fight for the rights of Aboriginal people and the betterment of the human condition around the world.
Harper studied at the University of Manitoba and quickly began work in community development, as supervisor for the Manitoba Indian Brotherhood, and program analyst for the Manitoba Department of Northern Affairs.
At the age of 29, Harper became the chief of the Red Sucker Lake Indian Band (now Red Sucker Lake First Nation) and three years later, was elected as Member of Legislative Assembly for the Rupertsland constituency making him the first member of a First Nation to serve in the Manitoba Legislature as an MLA. During this time, he served as Minister Without Portfolio Responsible for Native Affairs, and also as Minister of Northern Affairs.
While Harper was sitting as MLA, as opposition member, he made Canadian history in 1990 when had the bells of the legislature ring when he blocked the Canadian constitutional amendment known as the Meech Lake Accord due to insufficient participation, inclusiveness and recognition of Aboriginal people in the proposed constitutional amendment. This constitutional roadblock sent a strong message to all Canadians as a reminder that Aboriginal people need to be included in the process.
During that same year, the Canadian Press voted him Newsmaker of the Year, was awarded the Stanley Knowles Humanitarian Award – an honour shared by Nelson Mandela of South Africa, and was bestowed with the title of honorary Chief for Life by Red Sucker Lake First Nation. In addition to those honours he received the commemorative medal of Canada from the Governor General for his dedication and commitment as a public servant and continues to earn honours and accolades for his work.  
After resigning from the Legislative Assembly (Manitoba) in 1992, he was elected as Member of Parliament for the Churchill constituency in northern Manitoba, one of the largest electoral districts in Canada in 1993.
His commitment to human rights and betterment of the human condition has taken him around the world including Great Britain, the International Court of Justice at The Hague, and the European Parliament in France, South Africa, and the Americas.
Harper was appointed by the Privy Council as Commissioner for the Indian Claims Commission in where he served for two years and now he continues his work as an activist, promoting human rights and making Canada a more inclusive country for all Aboriginal people.