Ani DiFranco
Honorary Doctorate
---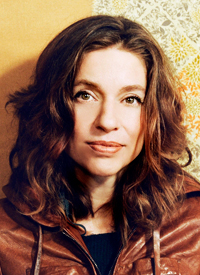 Renowned singer-songwriter and performer Ani DiFranco helped pioneer the independent music movement and has had a profound impact on the folk music community, including in Winnipeg. Feminist activists recognize her as a cultural icon for her unflinching critiques – expressed in song – of sexism, heterosexism, racism, and class-based discrimination.
She is a strong advocate for social and environmental sustainability, and she lives those values as both a performer and entrepreneur. During her early career DiFranco resisted representation by mainstream record labels and instead established her own independent label, Righteous Babe Records. Today Righteous Babe Records produces up-and-coming as well as established artists, and advocates for social justice efforts related to media activism, reproductive rights, peace and justice movements, arts and education, and other forms of democratic engagement. In 2000 she saved a Buffalo, New York theatre from the wrecking ball and turned it into Babeville, an eco-friendly multi-use arts facility.
DiFranco's career spans more than two decades. She has recorded over 20 albums and collaborated with numerous world-class musicians and artists and including Pete Seeger, Bruce Springsteen, Gillian Welch, Cyndi Lauper, and Burmese activist and Nobel laureate Aung San Suu Kyi. 
For her deep and tireless commitment to social justice, sustainability and the arts, The University of Winnipeg bestows upon Ani DiFranco an Honorary Doctor of Letters and welcomes her to the UWinnipeg community.