Mohinder Singh Dhillon
Honorary Doctorate
---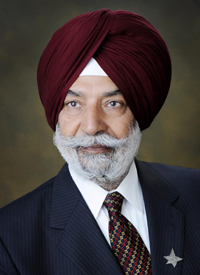 Mohinder Singh Dhillon is an entrepreneur and well-respected leader in Manitoba's Indo-Canadian community. Throughout his life, he has championed diversity and multiculturalism. He is an ardent advocate for human rights and is devoted to supporting Manitoba's new immigrants.
"Mohinder is an excellent role model for our community," said President & Vice Chancellor Dr. Lloyd Axworthy. "He illustrates the ideals of leadership, engaged citizenship and service that we wish to instill in our students and which express the values of our University."
Dhillon arrived in Winnipeg in 1967, Canada's Centennial Year, and has been contributing to the fabric of his community ever since. As a new immigrant, he was familiar with the challenges that many new Canadians face upon their arrival in Manitoba while raising a family.
Upon his arrival, he worked full-time at Bristol Aerospace. Today, he leads his own real estate company R & R Realty, which he currently operates while making a contribution to his community.
Dhillon's work with the Manitoba Interfaith Immigration Council has helped welcome and integrate close to 5,000 refugees and new immigrants to our province.
Dhillon has contributed his time and effort to more than 30 organizations including his serving as an advisory board for the Canadian Museum for Human Rights and The University of Winnipeg's Global College.