Father Patrick Desbois
Honorary Doctorate
---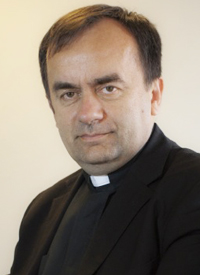 Father Patrick Desbois, BSc, MA 
Honorary Doctor of Divinity
Father Desbois has been recognized internationally for his extraordinary achievements that include Holocaust research, his ability to break down the walls of indifference to crimes against humanity and for promoting international Catholic-Jewish dialogue.
The grandson of a Frenchman imprisoned in the Rawa Ruska camp near the Ukrainian border, Desbois returned to his grandfather's camp and set out to investigate the mass murder of an estimated 2.5 million Jews by the Nazis, as well as to honour the victims of this genocide by bringing their stories to life.
Through forensic evidence, eyewitness accounts, and new archival research, Desbois created the first definitive account of one of history's forgotten chapters. He has successfully documented over 3,200  testimonies that cover former killing sites, in six countries, Belarus, Moldova, Poland, Romania, Russia and Ukraine. He has now created a record of the slaughter of innocents and the trauma that would follow on those that were forced by the Nazis to conduct horrific acts against humanity.
Desbois' work has served as a groundbreaking starting point for the Ukraine as it begins to examine this dark chapter in its history, which has been previously silenced by the Soviet regime. His work and research has been on exhibit in schools and colleges throughout Ukraine bringing attention to this little known tragedy in human history.
In 2004, Father Desbois along with the late French Cardinal Jean-Marie Lustiger and Rabbi Israel Singer, co-founded Yahad in Unum (the words for "together" in Hebrew and Latin.) Yahad in Unum is the leading research organization which investigates the mass executions of Jews and of Roma/Gypsies across Eastern Europe between 1941 and 1944. This slaughter is known as "The Holocaust by Bullets," which is also the title of Desbois' award-winning book.
In addition to Father Desbois' research, his work in promoting Catholic-Jewish relations dates back to 1998. He was appointed secretary to the French Conference of Bishops for relations with the Jewish Community and he was also advisor to the Vatican on relations with Judaism.  A central figure in Jewish-Catholic relations, he is the main official liaison between the Catholic Church in France and organized Jewry. As an official consultant to the Vatican on relations with Judaism, he is extending his work to other European countries and beyond.
Desbois has been recognized internationally for his humanitarian work by several universities earning him Honourary doctorates, as well as other major awards in addition to the Chevalier de la légion d'honneur.
The University of Winnipeg is honoured to present Father Patrick Desbois with an Honourary Doctor of Divinity for for his convictions, for giving a voice to thousands of lost innocents, and for promoting an international Catholic-Jewish dialogue that will impact generations.