Ajit Kaur Deol
Honorary Doctorate
---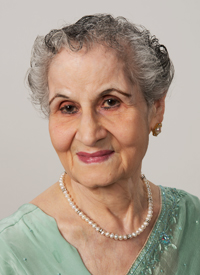 OM, BA Honours, MA, BEd, BPE
Honorary Doctor of Laws
Deol, a retired teacher and principal who came to Canada from India in 1967, has committed herself to issues in education, social services and multiculturalism throughout her career. Leading by example, Deol believes that every individual has the responsibility to contribute and become a catalyst for positive change in society.
She is also a strong advocate for education and has worked tirelessly to improve the lives of her students — especially the marginalized and disenfranchised — through better policies and governance.
In the early 1970s Deol was principal of Carline McMorland School for the Mentally Challenged in Marathon, ON. She developed the school, which was initially located in a church basement, from five students to 24 over a span of six-years, eventually integrating her pupils into regular classes at Marathon High School from the basement. This integration allowed her students to take part in all elements of everyday life, thereby improving the quality of their educational experience. Her Marathon High School integration program became a template for other Ontario schools.
Deol is a model Canadian citizen and a pillar of support for her Indo-Canadian community who has facilitated intercultural understanding from the local to provincial levels. She has served on the Boards of numerous organizations, including the Manitoba Human Rights commission, the Canadian Multiculturalism Council, Winnipeg Boys and Girls Clubs (Winnipeg) and the East Indian Support and Advocacy Group promoting intercultural tolerance and understanding.  
Deol has earned several awards and distinctions, including the Queen's Diamond Jubilee Pin, Queen's Golden Jubilee Medal, the Distinguished Community Service Award (National Indo-Canadian Council, Manitoba Chapter) and is an Officer of the Order of Manitoba.  
The University of Winnipeg is honoured to present Ajit Kaur Deol with an Honorary Doctor of Laws.