Sandra DeLaronde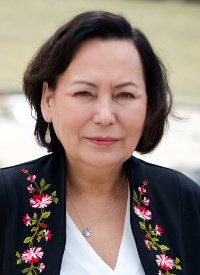 MA
Honorary Doctor of Laws
Sandra DeLaronde is a champion of social change who works tirelessly to amplify the voices of Indigenous people in Manitoba. Raised in a strong and vibrant Métis family, she is a member of Cross Lake First Nation with roots at the Métis settlement of Duck Bay.
A passionate community builder, DeLaronde has made it her life's work to end violence and support the families of Missing and Murdered Women, Girls, and 2-Spirited persons (MMIWG2S). As co-chair of Manitoba's MMIWG2S Coalition, she is a powerful voice for Manitoba families in the Commission of a National Inquiry into Murdered and Missing Indigenous Women, Girls and 2-Spirited Persons, ensuring the hearts of families and survivors are honoured and protected.
She played an instrumental role in developing and managing the Helen Betty Osborne Memorial Scholarship, which was established in 2000 to honour the life and legacy of its namesake, who was murdered in The Pas in 1976. This scholarship has delivered over $1 million in direct bursary support to hundreds of First Nations, Métis, and Inuit students pursuing post-secondary education in Manitoba.
DeLaronde worked closely with The University of Winnipeg's Office of Indigenous Affairs to incorporate Star Blanket teachings into the campus — integrating a Star Blanket mural on the Helen Betty Osborne building and as a theme throughout convocations and the Spring Feast.
DeLaronde is generous in sharing her knowledge and culture with others. As head woman for the Oyate Wiwanyang Wacipi (Sundance) and the Heart of the White Buffalo Moondance, she plays a vital role in strengthening Indigenous ceremony, practice, and tradition.
Whether heading a project or chairing a heated meeting of diverse perspectives, DeLaronde leads with a combination of authority, generosity, and empathy that bridges difficult conversations and influences change. This is evident in her work with national, provincial, and local women's and Aboriginal women's organizations in support of community development, cultural reclamation, and reconciliation.
For her dedication to amplifying the voices of the Indigenous community and her leadership in supporting the families of Missing and Murdered Women, Girls, and 2-Spirited persons, The University of Winnipeg proudly bestows an Honorary Doctor of Laws on Sandra DeLaronde.