George Ramsay Cook
Honorary Doctorate
---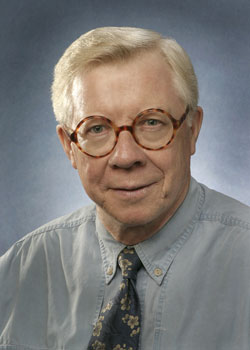 George Ramsay Cook is one of Canada's most notable historians, an accomplished public intellectual and an established academic that is internationally recognized. His journey began at United College and this journey is reflected in his historical work that emphasizes the important role of documentation, evidence and objectivity.
Deep Regard for Knowledge
Cook speaks to the importance of impartiality and the deconstructing of received opinions and mythologies in history. His work is reflected in his award winning writing that has a deep regard for knowledge and informed self-consciousness. A Colleague describes him as having "a quiet prideful curiosity in his work in the endless adventure that is the Canadian nation and its history."
Cook has a sincere love for Canada. This is reflected in his contributions to our history and the continuous probing critique of the debate about Canada's national purpose. He has explored the role of Canadian nationalism and has shared an important voice in the dialogue with French Canadian intellectuals.
An Officer of the Order of Canada
Cook has received numerous honours and awards, including election into the prestigious Fellowship of the Royal Society of Canada for his outstanding scholarly achievements and the Tyrell Medal from the Royal Society, awarded for outstanding work in the history of Canada. He was bestowed the Governor General's Literary Award for Non-Fiction and is an Officer of the Order of Canada, one of Canada highest honours, awarded for a lifetime of achievement.
Inaugural H. Sanford Riley Fellow
He is The University of Winnipeg's inaugural H. Sanford Riley Fellow. This Fellowship is awarded annually to a scholar of Canadian history interested in pursuing and sharing their interest in the study of Canada.
He has taught at the University of Toronto and York University, and is currently Professor of History (Emeritus), York University. He has served as a visiting lecturer in many universities around the world including Harvard, Yale, the University of Vienna, University of Edinburgh and the Chinese Academy of Social Sciences to list just a few.