Ruth Christie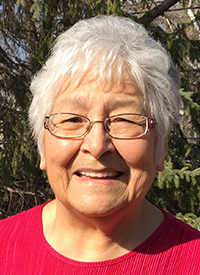 LPN
Honorary Doctor of Laws
Ruth Christie is a distinguished community-based scholar, knowledge keeper, and storyteller who has influenced generations through her important work in public history and as a mentor.
Christie's fundamental work has been forms of healing, not only as a licensed practical nurse, but in the setting of public history. Her love of history and storytelling began from her early experiences while growing up in the small community of Loon Straits on the east side of Lake Winnipeg.
Descended from Selkirk settlers as well as Indigenous ancestors, Christie has a formidable command of northern Cree and Ojibwa cultures and is well versed in nineteenth-century material culture and social relations. Her family history is a key resource of her stories, including that of her great-great grandfather Joseph Monkman, who was involved in the signing of Treaty One. She is also the great granddaughter of John Ramsay, who was Cree, an expert hunter and canoe-maker. Christie uses her scholarship and her storytelling to address ignorance and racism, and to honour her ancestors.
Her talent for story telling was an asset at Lower Fort Garry, where she worked as a historical interpreter at the Parks Canada National Historical Site, portraying her own great-great grandmother, Isabella Monkman. Over time, she brought history to life for more than 500,000 visitors. 
Christie's expertise has been called upon by scholars and she has influenced many academics —  such as when she presented at the University of Oxford as part of the Centre for Rupert's Land Studies colloquium in 2002, and when she traveled to Iceland in 2003 as part of the Icelandic National League's International Visits Program. She received the Queen's Golden Jubilee medal in 2002, awarded in Canada to nominees who contributed to public life.
Christie is committed to mentoring young adults through her work as an Elder at UWinnipeg and the Selkirk Friendship Centre, with the Lord Selkirk School Division, and through many school programs. She consults for artists and songwriters, and has been interviewed many times on CBC radio and television.
The University of Winnipeg is proud to present Ruth Christie with an Honorary Doctor of Laws for her enduring commitment to sharing Indigenous history, for her support of Indigenous communities, and for mentoring scholars and young adults through her role as an Elder and historian.